Was it just me? Was I the only one who noticed a tiny announcement in February that Airport Scanners were coming to Australia, the land where terrorists haven't landed (yet), and … wait for it… there would be no (NO!) — opt — out– clause. Did I hear that correctly?
And the crowd roared (about the cricket), nobody said a word about the scanners, and the ten libertarians left who can bear to watch the ABC were too busy trying to save the nation from nastier threats. Australia is getting millimeter wave scanners at International Airports, and if you don't want to be scanned, you need to leave the country… by boat. (Either that or swim with the crocs across the Timor Sea.)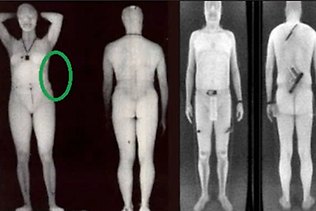 With no opt out clause, what happens when the first person facing deportation refuses to be scanned? Well that's all right then, we'll just book them on a cruise to Kandahar? Civil Liberties Australia was one of the few to speak up. Maybe those scanners are safe? Maybe? But at least one man with a pacemaker says Australia is off his holiday list now. Can someone find the peer reviewed research showing there are no long term effects on the unborn?
There's also the catch that if any terrorist has a computer with an internet connection, they probably know how to get guns past the scanners.
Then a nice man named Tony wrote to me asking if I liked his graphic (below), and I did. Do admire the powerful communication tool here (it's worth a look). The only thing it lacked was to tell us non-US folk that the TSA stood for the Transportation Security Administration.
Once upon a time it took months to get to Australia, the ships had no GPS, sometimes not even an engine, and the in-non-flight food gave you scurvy. People died, no one had travel insurance, and before WWII even a blister could kill you.
Brace yourself, how things have changed. Travel in the satellite era is so dangerous now, it takes 62,000 employees to make it safe (just in the USA). Of those, nearly 4,000 are based in the Washington DC headquarters of the TSA. The average salary of those desk-based public servants in the regulating class is … $104,000. That's average?
Here in Australia our airport scanning scheme is supposed to cost $28 million.