The War on Wikileaks
Posted: December 10th, 2010
Podcast [76:55m]:
Play Now
|
Play in Popup
|
Download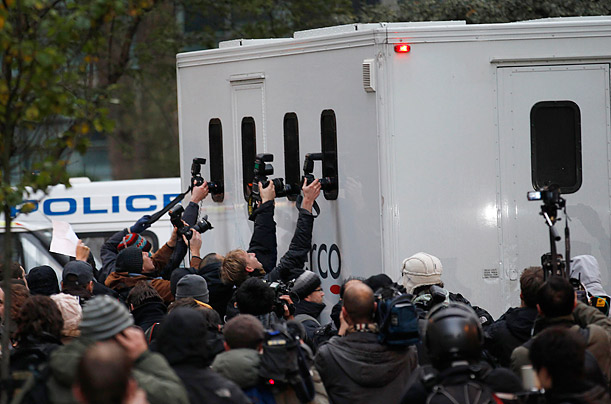 A prison van believed to be carrying WikiLeaks founder Julian Assange | Reuters.
In tonight's show we delve once more into the controversy surrounding Julian Assange who now languishes in a "segregation unit" in London's Wandsworth prison awaiting extradition to Sweden on "sex crimes" charges.
Earlier in the week Wikileaks experienced a concerted attack from its corporate service providers with Amazon, Paypal and VISA and a Swiss bank freezing funds and closing accounts.
Simultaneously, reports flooded in of massive denial of service attacks against these same organisations from a hacker  group known as "anonymous".
Despite death threats and calls from prominent US politicians for him to be declared an "enemy combatant" and/or  charged with espionage offenses, Assange has been receiving strong support from a variety of surprising quarters including the Murdoch Press and former Australian PM Kevin Rudd.
Yesterday it emerged via Wikileaks that Labor senator Mark Arbib, instrumental in Rudd's sacking as PM, has secret ties with the US embassy and had been feeding the US ambassador with inside information about leadership tensions within the party.
Is a revolution underway? Or is this merely part of a globalist frame-up to create an "internet 9/11″ to justify draconian changes to our internet freedoms?
Find out on tonight's show!
Related Links:
Posted: December 10th, 2010 under Julian Assange, Wikileaks.

NOTE: Truth News Radio Australia has MOVED!
Click here
to go to the new website.
Comments