Spare a thought for Bradley Manning this Christmas!
Posted: December 20th, 2010
Podcast [83:37m]:
Play Now
|
Play in Popup
|
Download
and for each unharmful gentle soul misplaced inside a jail
…we gazed upon the chimes of freedom flashing
- Bob Dylan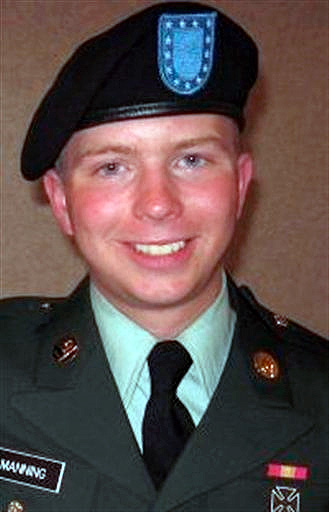 As we go to air, the Wikileaks controversy continues to dominate the news, and we turn now to look at broader issues around the leaked material.
With the focus entirely on the personality and legal debacle of Julian Assange, the embattled whistle blower and arguably greater victim in all of this is PFC Bradley Manning, who has been locked in an isolation cell for the past seven months under extremely restrictive conditions which amount to torture. He is prevented from exercising in his cell and has been forcibly medicated with anti-depressants.
Bradley Manning is accused of being the source for the leaked Baghdad "Collateral Murder" video which thrust Wikileaks into the international spotlight in April 2010.
Meanwhile, there are ongoing questions regarding the integrity of Julian Assange because of his sweeping dismissal of 9/11 conspiracy theories. Here are his exact words as transcribed by Matthew Bell of the Belfast Telegraph on 19 July 2010: "I'm constantly annoyed that people are distracted by false conspiracies such as 9/11, when all around we provide evidence of real conspiracies, for war or mass financial fraud.".
Michel Chossudovsky has probed into the origins of Wikileaks and observes the following:
Wikileaks' geopolitical focus on "oppressive regimes" in Eurasia and the Middle East was "appealing" to America's elites, i.e. it seemingly matched stated US foreign policy objectives. Moreover, the composition of the Wikileaks team (which included Chinese dissidents), not to mention the methodology of "exposing secrets" of foreign governments, were in tune with the practices of US covert operations geared towards triggering "regime change" and fostering "color revolutions" in different parts of the World.
- source
Today we welcome to the show veteran broadcaster and media professional Anthony Lawson to discuss these matters and more. Anthony recently posted a video on youtube highly critical of Assange, suggesting that "if Julian Assange did not already exist then the CIA and Mossad would need to invent him". This viewpoint, which is shared by a variety of independent researchers, stems from the observation that the bulk of material leaked seems to prop up US foreign policy objectives while leaving Israel completely untouched.
Anthony pulls no punches in this interview, so fasten your seat belts folks!

http://www.youtube.com/watch?v=7TheJPboU4c
It is our opinion nonetheless that the case of PFC Manning is a clear instance of a genuine whistle blower risking his career for the sake of transparency, justice and freedom.
Wishing you the very best of Christmases from the crew at TNRA, may we suggest you also visit the Bradley Manning support network where you can leave a donation for this brave young man.
Related Links:
Posted: December 20th, 2010 under Anthony Lawson, Bradley Manning, Climate Change, Wikileaks.

NOTE: Truth News Radio Australia has MOVED!
Click here
to go to the new website.
Comments