Stop Smart Meters Australia
This text will be replaced
Broadcast of November 15, 2012. Part 1 of 2
»
Download mp3:
click here
This text will be replaced
Broadcast of November 15, 2012. Part 2 of 2
»
Download mp3:
click here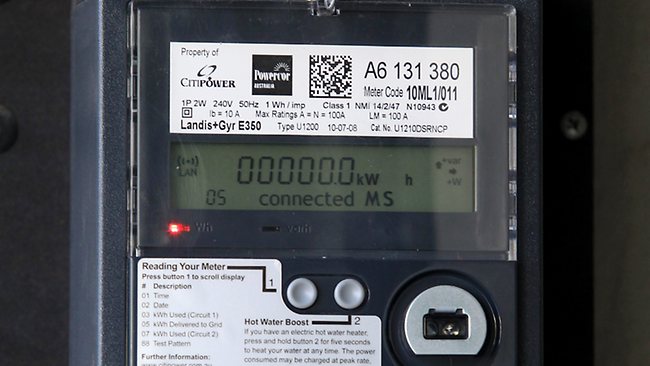 Today's show features an interview with a representative of Stop Smart Meters Australia, an organisation which is opposing the introduction of electricity smart meters which are currently being rolled out in homes throughout Victoria.
From the petition:
Victorian Citizens are being forced to have Smartmeters installed without consultation or choice, in total disregard for what they believe are their human rights:
to protection from hazards to their health and safety;
to choose what is installed in their homes;
to protection of their economic interests;
to protection of their privacy;
to access to adequate information to enable the right to making informed choices according to individual wishes and needs.
There are many concerns regarding smart meters including;
health issues, including radiation;
additional cost on households,
the additional costs of time of use tariffs would impose on households;
the accuracy of smart meters and the inability of households to check energy consumption levels;
that installers of smart meters may not be appropriately qualified;
individuals making it known that they did not want a smart meter installed at their property, or wanted their meter removed being totally disregarded
problems with wiring, the possibility of fires developing and the loss of appliances following installation and consumers rights for replacement of their assets and appliances
insurance concerns
privacy of data collected and concerns over hacking of the system to name the main concerns
Our show also contains more coverage of the ongoing controversy over the use of tasers by police.
Related Links
Chris Emery on recent film projects
This text will be replaced
Broadcast of November 8, 2012. Part 1 of 2
»
Download mp3:
click here
This text will be replaced
Broadcast of November 8, 2012. Part 2 of 2
»
Download mp3:
click here
The Crew of Free Mind Films, creators of "A Noble Lie". Clockwise from left: Austin Green, Holland Vandennieuwenhof, Chris Emery and James Lane.
My guest in the 2nd hour of today's show is Chris Emery, co-producer of the award winning documentary "A Noble Lie", which exposes the US government's involvement in the 1995 Oklahoma bombing. Our discussion includes some recent news covered in the show as well as Chris's latest news regarding his speaking engagements, film awards and plans for a new documentary on the subject of the CIA "MK Ultra" mind control experiments.
In the first hour we bring you a range of news stories affecting Australia and the world. Topics covered include the US presidential elections, the introduction of smart meters in Victoria and ongoing fallout over the taser death in Sydney of Roberto Laudisio Curti.
Related Links
Halloween Special with Josh Jackson
This text will be replaced
Broadcast of October 31, 2012. Part 1 of 2
»
Download mp3:
click here
This text will be replaced
Broadcast of October 31, 2012. Part 2 of 2
»
Download mp3:
click here
In tonight's show we bring you a menagerie of weirdness as we plough through the many bizarre themes which dominate the news on this Halloween night.
We look at recent developments in the Julian Assange case, with a Parliamentary Briefing on the case now in progress.
In the 2nd hour am joined once again by Josh Jackson, and our special subject is that of "security" - what does it really mean and do large scale security measures end up creating more problems than they solve?
Chemtrails Revisited
This text will be replaced
Broadcast of October 24, 2012. Part 1 of 2
»
Download mp3:
click here
This text will be replaced
Broadcast of October 24, 2012. Part 2 of 2
»
Download mp3:
click here
In today's show I spend a good deal of time talking about why I don't subscribe to the theory that there is a global campaign of aerosol spraying (aka chemtrails) going on.
In the 2nd hour I am joined by Josh Jackson, who chimes in with his views regarding the alleged spraying.
This discussion is not presented as expert evidence, it is merely the opinion of 2 ordinary guys with a basic level of education, a willingness to look at facts and to let evidence, rather than belief, shape our opinions.
World Roundup with Damon Crowe
This text will be replaced
Broadcast of October 17, 2012. Part 1 of 2
»
Download mp3:
click here
This text will be replaced
Broadcast of October 17, 2012. Part 2 of 2
»
Download mp3:
click here
Our first hour guest in today's show is Damon Crowe. Our discussion ranges through many issues affecting the world today, with an emphasis on the warped psychology of the manipulators who run our global financial systems.
In hour 2 we bring you a shocking story of medical tyranny from Australia. The cases we describe illustrate the degree to which the government, child protection services and public hospitals are colluding to strip parents of their basic rights. These authorities routinely remove children from loving and caring families, causing severe emotional distress and compounding medical problems.
The effects of these catastrophic policies will be long lasting and clearly as damaging as anything we heard of in a past era. The stolen generations have never ended. They have simply been packaged differently.
Related Links
Introducing Aussie Beach TV
This text will be replaced
Broadcast of October 4, 2012. Part 1 of 2
»
Download mp3:
click here
This text will be replaced
Broadcast of October 4, 2012. Part 2 of 2
»
Download mp3:
click here
We are all familiar with the way in which the corporate oligarchies who run planet earth use sex to sell us their junk products.
But what about the idea of using sex to sell us something we really need - such as real news and information about what's going on in the world?
Enter Jack Russell, creator and presenter of Aussie Beach TV:
"Aussie Beach TV" is a new independent, alternative, citizen media project hosted by the most beautiful girls in Australia. You will find us on the streets and beaches of Australian towns, communicating with the Australian public on a daily basis. We are currently auditioning girls to become street/beach reporters and camera girls at YOUR VENUE!

Are you sick of the corporate controlled, mainstream media feeding you spin, lies and disinformation? Aussie Beach TV are dedicated to bringing you the news that gets swept under the rug. We vow to show you the other side of the coin and to go to the streets and beaches of Australia and ask real Aussies what they think and feel.
My conversation with Jack ranges through some of the hot topics (and hot girls) which form the substance of this innovative and well produced news and current affairs show.
My 2nd hour guest is Ian Crane, an ex-oilfield executive who now lectures, writes and broadcasts on geo-politics and the New World Order.
Ian will shorlty be embarking on a speaking tour through Australia and New Zealand, and you can find more information about his tour dates here.
I hope you enjoy the show!
Chemtrails brownshirts renew threats against TNRA
I have once again received an ominous threat, allegedly from the group "Anonymous", and once again because of my sceptical response to claims about the existence of a global aeorsol spraying campaign known as "chemtrails", and because I insist that such claims must be supported by evidence in order to be taken seriously.
These latest threats follow on the heels of threats made last week:
I hope you know about zombie trojans and how to check for them. Buckle up boys the ride is about to get bumpy
So, because I follow the basic principals of empirical research and science, I am now branded an enemy by so called "hacktivists" who hide behind anonymity, preach about freedom of speech, and terrorise independent blog editors.
The most ironic and Orwellian part of all this is that, while on the one hand they threaten to shut down or "deface" my website, on the other hand they accuse me of censorship, all because a few posts have been deleted and a few IP addresses have blocked. They of course neglect to mention that I have allowed a mega thread on the subject to continue for many months, and that I have asked people from both sides of the argument to actually come on my show and have a debate.
If this is the calibre of the frontline of chemtrail activists, then what does that tell you about the whole movement? Think about it.
Here is the latest message, in full:
Hello truthnews.com.au,

We are anonymous and you should by now realise your troubles are much bigger than any single issue like "Chemtrailers". Until now "media" has been exempt from attack. As exemplified by upcoming actions towards Julian Assange the leakpimp, many have reconsidered this position.

Is hacktivism and distributed denial of service violence? What then a temporary defacing or data theft? When you posted onto Facebook "I'm screwed" & "They have stolen all my data" with the thread "Thugs have threatened to shut down TNRA" was that a lie, request, prediction or mistake? Time will tell.

Truth News censorship is bad for truthful debate. You censor others but are outraged it could happen to you. We found amusement in you advocating get off face book 'via' face book. Webmaster excuses aside, it's double standards.

Do you understand the difference between physical violence & digital activism? Are you ready for a lesson? You would be foolish to underestimate the importance of this message. Our rage is greater than your outrage! Stand corrected and retract, otherwise all your bases are belong to us.

We Are Anonymous
We Are Legion
We Do Not Forgive
We Do Not Forget
A journey into Truth
This text will be replaced
Broadcast of September 26, 2012. Part 1 of 1
»
Download mp3:
click here
In tonight's show we plunge into the deeply confusing realm of philosophy with the objective of understanding the nature of truth itself. In philosophy this type of investigation is sometimes called Epistemology, or the study of knowledge.
During the show we look at 2 major philosophical debates which touch on the theme of defining truth and relate them back to some of the content matter covered on TNRA.
The first debate we look at is Realism Vs Nominalism:
Truth, it is said, consists in the agreement of cognition with its object. In consequence of this mere nominal definition, my cognition, to count as true, is supposed to agree with its object. Now I can compare the object with my cognition, however, only by cognizing it. Hence my cognition is supposed to confirm itself, which is far short of being sufficient for truth. For since the object is outside me, the cognition in me, all I can ever pass judgement on is whether my cognition of the object agrees with my cognition of the object. The ancients called such a circle in explanation a diallelon. And actually the logicians were always reproached with this mistake by the sceptics, who observed that with this definition of truth it is just as when someone makes a statement before a court and in doing so appeals to a witness with whom no one is acquainted, but who wants to establish his credibility by maintaining that the one who called him as witness is an honest man. The accusation was grounded, too. Only the solution of the indicated problem is impossible without qualification and for every man. - Emmanuel Kant
The second debate we look at is Rationalism Vs. Empiricism:
The dispute between rationalism and empiricism concerns the extent to which we are dependent upon sense experience in our effort to gain knowledge. Rationalists claim that there are significant ways in which our concepts and knowledge are gained independently of sense experience. Empiricists claim that sense experience is the ultimate source of all our concepts and knowledge.

Rationalists generally develop their view in two ways. First, they argue that there are cases where the content of our concepts or knowledge outstrips the information that sense experience can provide. Second, they construct accounts of how reason in some form or other provides that additional information about the world. Empiricists present complementary lines of thought. First, they develop accounts of how experience provides the information that rationalists cite, insofar as we have it in the first place. (Empiricists will at times opt for skepticism as an alternative to rationalism: if experience cannot provide the concepts or knowledge the rationalists cite, then we don't have them.) Second, empiricists attack the rationalists' accounts of how reason is a source of concepts or knowledge. - Stanford Encyclopedia of Philosophy
I believe that an understanding of the philosophical problems and arguments over the very meaning of truth are essential if we are to make any progress in our struggle to restore integrity to media and politics. Those who are in the business of mass deception have exploited the insights of philosophy in their efforts to re-engineer the human psyche.
In order to turn the tables on propagandists the information warrior must become equally familiar with this territory - a difficult but rewarding challenge.
Thugs have threatened to shut down TNRA - we must be doing something right!
Some of the fanatical chemtrail believers are posting threats on this website, eg:
Hereward as a computer whatever I hope you know about zombie trojans and how to check for them. Buckle up boys the ride is about to get bumpy
These threats are of course pathetic and indicative of a major chip on the shoulder. I doubt the author is even capable of "walking the talk", but I'm flattered nonetheless that he thinks TNRA is important enough to warrant such an attack.

These threats are purportedly coming as a result of my sceptical position on chemtrails, believe it or not!

The fact that chemtrailers are willing to entertain the idea of using violence against TNRA should indicate to you that there is something amiss with the whole chemtrails movement.

I believe "chemtrails" is quite likely a psyop, similar to the 9/11 "no-planes" meme, designed to sew discord and division among the community of truth seekers by injecting absurd and empirically unsound claims into general discussion.

I believe the fundamentally evil intent of those promoting "chemtrails" is exposed in these threats against me, simply for taking a sceptical position (ie: asking for evidence).

These are the classic bully tactics of fascists, who use a mix of deception, violence and mob mentality to destabilise their opposition.

This is not in the spirit of the truth movement. These guys have been outed by their own hand.

I hope this will prompt all our regular listeners to reconsider what I have been saying about chemtrails all along, to ask the hard questions, and honestly look at both sides of the argument.
Let it be known that I will, at my discretion, ban people who are persistently rude, persistently off-topic in a spammy way, expose privileged personal information, make libelous accusations, or (most pertinently) use threats in lieu of argument and evidence to make their point! If you are already banned it's because you fall into one of these categories. If you email me and promise me not to do it again I may lift the ban. The ball is in your court.
Related Links
Interview with Jan Irvin
This text will be replaced
Broadcast of September 12, 2012. Part 1 of 2
»
Download mp3:
click here
This text will be replaced
Broadcast of September 12, 2012. Part 2 of 2
»
Download mp3:
click here
Jan Irvin is the author of The Holy Mushroom: Evidence of Mushrooms in Judeo-Christianity, host of the podcast show Gnostic Media, and webmaster of Trivium Education, a website which teaches the ancient arts of Aristotelian Logic, and Classical Rhetoric.
General Grammar, Aristotelian Logic, and Classical Rhetoric comprise the first three rules-based subjects of the 7 Liberal Arts and Sciences. As these disciplines are learned and practiced together, they form the overarching, symbiotic system for establishing clarity and consistency of personal thought called the Trivium.

General Grammar

(Answers the question of the Who, What, Where, and the When of a subject.) Discovering and ordering facts of reality comprises basic, systematic Knowledge

Formal Logic

(Answers the Why of a subject.) Developing the faculty of reason in establishing valid [i.e., non-contradictory] relationships among facts, systematic Understanding

Classical Rhetoric

(Provides the How of a subject.) Applying knowledge and understanding expressively comprises Wisdom or, in other words, it is systematically useable knowledge and understanding
In the 2nd hour of today's show, Chris Tolland interviews Irvin on his research and insights in many subjects.
In the first hour of today's show Chris joins us for a relaxed discussion on life, the economy and politics in Australia.
I hope you enjoy the show!