9/11 was an inside job
This text will be replaced
Broadcast of September 9, 2011. Part 1 of 1
»
Download mp3:
click here
Tonight I am joined by Josh Jackson as we go through some of the 9/11 anniversary news for the week. In particular we look at the new BBC hit-piece 9/11: Conspiracy Road Trip, which is looking more and more like an attempt to brainwash a group of young people into accepting the official 9/11 story. This production features Charlie Veitch who famously did an about turn on the subject after the filming of this show.
Here is a snippet from the BBC's own description:
Andrew Maxwell, a comedian, believes in the findings of the official investigation, which claim the responsibility for the attack lies with Osama Bin Laden and Al Qaeda. He thinks the conspiracies theories are unsubstantiated nonsense. So in this film he offers to take five young Brits, who believe some of these conspiracy theories, on a road-trip from New York to Washington. They visit Ground Zero where two planes hit the Twin Towers, the Pentagon, home of vast American defence HQ and Shanksville in Pennsylvania where United 93 crashed.
We also take look at Triple J's lame attempt to discredit 9/11 truthers, which dishonestly claims to be "exploring alternative viewpoints".
In the final segment we play a short snippet from John Bursill's recent debate of 9/11 questions on Sydney's 2GB radio.
Conspiracy Theories And The Sept. 11 Terrorist Attacks
This radio broadcast is a text-book example of propaganda masquerading as journalism. The program purports to be an investigation, but in fact there is only one viable point of view presented. NPR has blood on its hands!
http://911blogger.com/news/2011-08-24/...kay
Audio Archive:
Stream: http://www.wbur.org/media-player
Download: http://audio.wbur.org/storage/2011/08/onpoint_0825_2.mp3
25 August 2011
With Jane Clayson in for Tom Ashbrook
Nearly ten years on, 9/11 conspiracy theories–about the Twin Towers– just won't go way. We'll look at the facts, and the conspiracy theorists.
The September 11th attacks killed nearly 3,000 people in New York, Washington, and Pennsylvania — and shook our country to its core. And even now, ten years later, thousands of Americans still say they don't believe the accepted narrative of what happened on that day.
They call themselves "truthers" or "skeptics." To many other Americans, they are simply conspiracy theorists –- confused, deluded, or worse. But how have these ideas stuck around for so long in the face of all the facts? And what do they say about our country?
This hour On Point: the persistence of 9/11 conspiracy theories.
9/11: Explosive Evidence - Experts Speak Out
We Are Change Sydney and Truth News Australia are proud to host a screening of this exciting new documentary film by Architects & Engineers for 9/11 Truth.
Saturday, September 10, 2011, 7:00 PM

Sydney Mechanics' School of Arts
280 Pitt Street, Sydney (map)
The film features cutting-edge 9/11 evidence from more than 50 experts in their fields – high-rise architects, structural engineers, physicists, chemical engineers, firefighters, metallurgists, explosives experts, controlled demolition technicians, and more. They are each highly qualified. Several have Ph.D's, including renowned scientist, Lynn Margulis who was awarded the National Medal of Science, and who exposes in this film the fraud of NIST and discusses how the scientific method should have been applied to the destruction of evidence and to the high temperature incendiaries in the WTC dust samples. The documentary is filled with wisdom from experts such as Les Young, one of several high-rise architects interviewed in the film, who remarks,

"I would not have expected the whole building[s] to just give in at once. And I thought it rather odd that they fell almost perfectly – in very similar ways. It seemed odd that lightning would strike twice."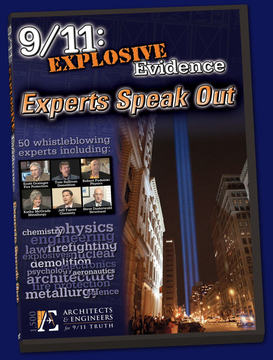 The full-length documentary includes interviews with almost a dozen psychologists who help us to understand why 9/11 Truth is so difficult for the public to even face, much less accept – and what we can do better to reach them. We also hear from several 9/11 victim family members who support AE911Truth in our call for a new investigation.

Psychologist William Woodward, Ph.D, one of eight mental health professionals who are also AE911Truth petition signers, provides a profound insight in that section of the film:

"Reconciliation through the truth is a deep path to psychological recovery from the myths and lies around which this historic event has been cloaked in the official view."

We look forward to seeing you there!
TVO Canada interviews Gage, Zwicker, Zarembka, Kay
http://ae911truth.org/en/news-section/41-articles/513-tvo-debate.html
Written by AE911Truth Staff | 17 may 2011
Canadian Public Broadcasting TV Station TVO Interviewed AE911Truth's Richard Gage, AIA, Barrie Zwicker (Towers of Deception), Author Paul Zarembka on the program "The Agenda" with Steve Paikin.
The National Post's Jonathan Kay, author of the hit piece "Among the Truthers," is interviewed alone for the first 15 minutes, then the debate begins. The satellite link connection with Gage in San Francisco is lost half way through the guest interviews.
Richard Gage AIA speaks on worldwide press conference
This text will be replaced
Broadcast of February 21, 2010. Part 1 of 1
»
Download mp3:
click here
On 19 February 2010 a
press conference
was held concurrently in 19 states, 3 continents, 6 countries, 38 cities and 48 locations, as more than 1,000 architects and engineers worldwide now support the call for a new investigation into the destruction of the Twin Towers and Building 7 at the World Trade Center on September 11, 2001.
Ae911truth.org press release
The Sydney press conference (pictured above) was held outside St Mary's Cathedral.
On today's show Richard Gage AIA, founding member of
Ae911truth.org
, joins us to discuss all matters pertaining to the the 9/11 truth movement and the growing demand for a truly independent, subpoena powered investigation.
As of the date of posting, 1046 registered architects and engineers have now signed
the petition
.
In the second half of the show we bring you the audio from the Sydney press conference and a recent
TV interview
with
NYC CAN
Outreach Director Manny Badillo.
The Dam Bursts - Australian media blockade on 9/11 truth broken!
This text will be replaced
Broadcast of November 25, 2009. Part 1 of 1
»
Download mp3:
click here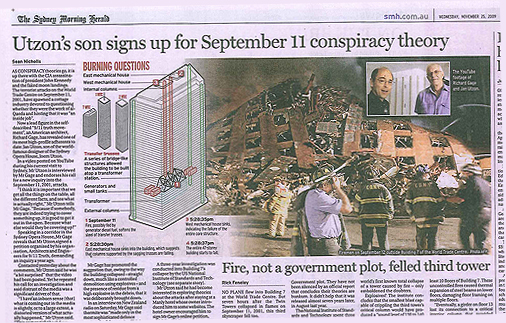 With the publication today of a half page spread in Sydney's leading broadsheet newspaper, we can finally announce that the eight year blackout on reportage of the worldwide movement for truth and justice known as the 9/11 Truth Movement, has finally ended.
This is a very important day for all of us who have fought to bring this information to light, whether through street activism, blogging, or even just trying to convince our friends and family that this is real and important.
Today there are two stories in the Sydney Morning Herald:
Utzon's son signs up for September 11 conspiracy theory
Fire, not a government plot, felled third tower
In tonight's edition of Truth News Radio Australia we discuss these stories with a very courageous hotelier who can justly take some credit for Jan Utzon's "conversion" to the 9/11 truth movement.
No evidence of explosions ..?
A selection of firefighter and rescue worker statements consistent with explosive demolition:



At that time I started walking back up towards Vesey Street. I heard three explosions, and then we heard like groaning and grinding, and tower two started to come down.
--PARAMEDIC KEVIN DARNOWSKI Date: November 9, 2001



Somewhere around the middle of the world trade center there was this orange and red flash coming out. Initially it was just one flash. Then this flash just kept popping all the way around the building and that building had started to explode. The popping sound, and with each popping sound it was initially an orange and then red flash came out of the building and then it would just go all around the building on both sides as far as could see. These popping sounds and the explosions were getting bigger, going both up and down and then all around the building.
-- CAPTAIN KARIN DESHORE  Interview Date: Novermber 7, 2001



I looked back. You see three explosions and then the whole thing coming down.
--FIREFIGHTER FRANK CAMPAGNA  Interview Date: December 4, 2001



The next thing I know, we heard a little bit of a rumbling, and then white powder came from the first collapsed building. I thought it was an explosion initially. We got hit with the powder. We tried to run. We got hit with the powder. It took a few minutes to clear.
...
After that, I still thought it was an explosion. I thought it was some kind of thermal explosion where I'm either going to get burnt -- and I had kind of ideas that it was going to be something like Hiroshima where all this heat was coming at me and we were going to get burnt -- or if the heat didn't burn me, I thought that all the parts coming out of this building, the windows, metal, all the things like that, that I might be severed in half.
--LIEUTENANT GEORGE J. DeSIMONE  Interview Date: October 22, 2001


.. for some reason I thought that when I looked in the direction of the Trade Center before it came down, before No. 2 came down, that I saw low-level flashes. In my conversation with Lieutenant Evangelista, never mentioning this to him, he questioned me and asked me if I saw low-level flashes in front of the building, and I agreed with him because I thought -- at that time I didn't know what it was. I mean, it could have been as a result of the building collapsing, things exploding, but I saw a flash flash flash and then it looked like the building came down.




Q. Was that on the lower level of the building or up where the fire was?





A. No, the lower level of the building. You know like when they demolish a building, how when they blow up a building, when it falls down? That's what I thought I saw. And I didn't broach the topic to him, but he asked me. He said I don't know if I'm crazy, but I just wanted to ask you because you were standing right next to me. He said did you see anything by the building? And I said what do you mean by see anything? He said did you see any flashes? I said, yes, well, I thought it was just me. He said no, I saw them, too.
--ASSISTANT COMMISSIONER STEPHEN GREGORY  Interview Date: October 3, 2001
An interview with Richard Gage, AIA
This text will be replaced
Broadcast of November 6, 2009. Part 1 of 1
»
Download mp3:
click here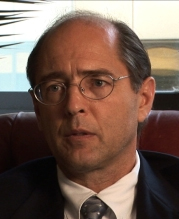 Tonight it is my great pleasure to welcome Richard Gage to the show.
Richard Gage, AIA, is a San Francisco Bay Area architect and a member of the American Institute of Architects. He is the founding member of
Architects & Engineers for 9/11 Truth
(
ae911truth.org
). He has been a practicing architect for over 20 years and has worked on most types of building construction, including numerous fire-proofed steel-framed buildings. Most recently he worked on the construction documents for a $400M mixed-use urban project with 1.2 million square feet of retail, parking structure, and 320,000 square feet of mid-rise office space - altogether about with 1,200 tons of steel framing.
AE911Truth.org provides an extensive resource of expert opinion on the structural failure of three WTC buildings on 11 September 2001.
During the interview we engage with all the key questions surrounding the collapse of WTC buildings 1, 2 & 7 - including a critique of the flawed reports produced by the
National Institute of Standards and Technology (NIST)
.
We also get into the subject of
connections between
NIST and
nano-thermite
which Gage
and an international group of scientists
believe were used in the demolition of these buildings.
This is an extremely important interview - I encourage our listeners to forward this to as many people as possible, particularly those who are new to the subject or adhere to the official theory, which maintains that the WTC towers were destroyed solely as a result of plane impacts and fires.