Anatomy of a terrorist attack: the Boston Marathon Bombing
This text will be replaced
Broadcast of April 17, 2013. Part 1 of 2
»
Download mp3:
click here
This text will be replaced
Broadcast of April 17, 2013. Part 2 of 2
»
Download mp3:
click here

Remains of the pressure cooker bomb believed to been packed with ball bearings
Today's show focusses on the recent terrorist bombing at the Boston Marathon. Our aim is to understand the underlying "message" behind this attack, and to deconstruct the MSM propaganda which seeks to portray this as the act of some fringe groups who are disgruntled over gun ownership legislation and the intrusion of government into their private lives.
We suggest that the propaganda message being broadcast is indeed far more important than the event itself, which while tragic for those directly involved, was insignificant compared to the daily road toll.
The Boston attacks have triggered discussion in Australian media about the threat of "ideological terrorist attacks" - and we provide an alternate analysis of this information.
Also in today's show we take a look at the plunging carbon price in Europe (and what that really signifies), as well as some recent developments in the war against vaccine dissidents in Australia.
Related Links
International news and analysis with George Georgios
This text will be replaced
Broadcast of August 30, 2012. Part 1 of 2
»
Download mp3:
click here
This text will be replaced
Broadcast of August 30, 2012. Part 2 of 2
»
Download mp3:
click here
Today's show covers a variety of both local and international news with our in-studio guest Georgios.
Some of the topics covered include developments in the Assange stand-off in London, and a final ruling in the protracted civil lawsuit over the death in Gaza of activist Rachel Corrie.
We also take a look at a new video from Koozzoo Media, analysing a disturbing practice known as "carbonising land" which is being conducted under the current carbon taxing scheme in Australia.
Our scheduled interview with Syrian Girl was unfortunately cancelled, however we hope to have her on the line during the next show.
Related Links
Exposing the criminal injustice system with George Georgios
This text will be replaced
Broadcast of June 6, 2012. Part 1 of 2
»
Download mp3:
click here
This text will be replaced
Broadcast of June 6, 2012. Part 2 of 2
»
Download mp3:
click here
In today's show we are joined in the first hour by Josh Jackson from Germany. We cover the fiscal crisis in Europe and Josh gives us some interesting insights.
In the second hour George Georgios returns to talk about the systemic injustice and corruption within the criminal justice system. George has many insights into this subject based on in depth interviews with both prison inmates and judicial authorities.
Some news stories covered in this show include the shocking news from New Zealand that the courts now have been given control of the reproductive rights of women, with powers to issue a blanket ban on having babies to women deemed to be at risk of harming or neglecting their offspring.
We present an excellent video released by Koozzoo Media, highlighting the risks associated with full body scanners.
We also take a critical look at recent news on the Carbon Tax, with the Climate Change Minister, Greg Combet, stating that the Carbon Tax is "here to stay".
Related Links
Professor Bob Carter on climate change
This text will be replaced
Broadcast of May 3, 2012. Part 1 of 2
»
Download mp3:
click here
This text will be replaced
Broadcast of May 3, 2012. Part 2 of 2
»
Download mp3:
click here
My guest today for the second hour is Prof. Bob Carter:
Professor Bob Carter is an adjunct Research Fellow at James Cook University (Queensland). He is a palaeontologist, stratigrapher, marine geologist and environmental scientist with more than 40 years professional experience, and holds degrees from the University of Otago (New Zealand) and the University of Cambridge (England). He has held tenured academic staff positions at the University of Otago (Dunedin) and James Cook University (Townsville), where he was Professor and Head of School of Earth Sciences between 1981 and 1999.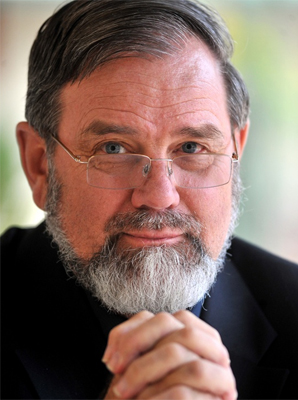 Prof. Carter is the author of Climate: the Counter Consensus, a book which has received accolades from scientists, politicians and the general public, and you can read some of the reviews here.
In today's interview, Prof. Carter steps us through some of the key assumptions behind the mainstream science of climate change, and shows us why they are wrong. His expertise in paleoclimatology provides an insight into the deeper patterns of nature which shape the world - a perspective which is completely lacking in the relatively immature "climate science" field which informs both media coverage and government policy.
Climate science relies heavily on computer models and projections, whereas geology and palaeontology is based on hard evidence which encompasses the entire history of the planet. This field of research does not lend itself to political agendas, and Prof. Carter's work stands in the tradition of scientific dissent best summed up in the words of Galileo Galilei:
In questions of science, the authority of a thousand is not worth the humble reasoning of a single individual.
In the first hour of today's show I am joined by Josh Jackson for a general discussion on news and events in Australia, during which we take our first call from a listener to the show.
If you are interested in calling in while we are on air please don't hesitate to pick up the phone!
We broadcast live every week:
Thursdays 11:00AM-1:00PM AEST (Australia) - 1300 153 372
Wednesdays 8:00-10PM CST (US) - 512 646-1984
I hope to hear from you next time!
Related Links
Thomson quits, Slipper stands down
Breaking News
Embattled Thomson quits Labor party
PM moves on Thomson and Slipper, saying a 'line has been crossed'
Whether or not you believe in our representative democracy, I hope you can see that we need an election now, and that, if this occurs (as it should from the numbers against the government and the scandals over MPs), Abbott must uphold his promise of fully repealing the carbon tax, on pain of creating an even greater popular backlash than we are seeing now.
Thomson's resignation from the ALP is purely for show, and has no bearing on his tenure as member for Dobell, or on how he will vote in Parliament. It is a further insult to the very concept of democracy that a sitting MP can play with his role in such a manner. This is a fraud against the Australian people.

If we believe in democracy at all, we must be prepared to take action to ensure restoration of the basic values of a free society, otherwise we will only slip deeper into tyranny. The government, according to current polls, enjoys a 29% popularity rating. They don't have a mandate to govern.
Are you prepared to hit the streets to let them know how you feel?
Two interviews and some Australian News
This text will be replaced
Broadcast of April 9, 2012. Part 1 of 2
»
Download mp3:
click here
This text will be replaced
Broadcast of April 9, 2012. Part 2 of 2
»
Download mp3:
click here
In the first hour of today's show we bring you some analysis of recent news in Australia on the subject of climate change and the impending carbon tax, as well as an excerpt from a mini documentary which explores some of the internal frictions which caused the occupy movement in Brisbane to splinter and lose momentum.
In the second hour we bring you 2 original interviews conducted on Sydney's Skid Row Radio. The first interview documents harrassment, interference and criminal conduct of a major Australian Bank. The second interview documents harrassment and intimidation by a large supermarket chain towards children who are accused (but not charged) with attempted shop lifting (despite the complete absence of any evidence which would justify the accusation).
I hope you enjoy today's broadcast!
Related Links
The Green Wave by Joanne Nova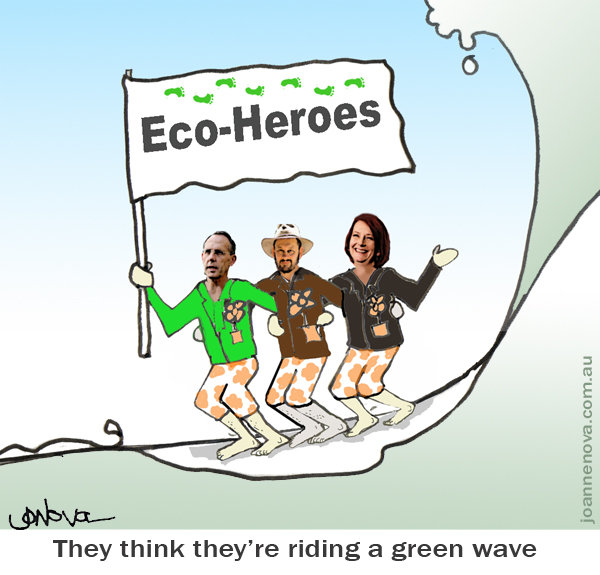 Welcome to a "Hung" Democracy
And so it came to pass that a small band of the selfish or deluded came to steal the blood, sweat and toil of the many.
They lied, broke solemn promises, failed to provide evidence, and displayed a singular lack of good-manners. They viciously insulted anyone who disagreed, they hid the models the public were forced to pay for, they gave patrons highly paid jobs to advertize their scheme.
They speak arrant nonsense as if it is the bleeding obvious: telling us that we will grow rich if we use energy that costs more; that coal miners are to blame for heavy rain; that more taxes will bring investors; that we'll lose jobs if we don't pay more than we need to for energy; or that 6.98 billion people will follow the 0.02 billion who lead us on the path to the Land of Stupid. They made prophesies that failed time after time, yet speak on, as if only they have the vision to guide us.
The polls show the public would not have elected people who wanted to bring in a Carbon Tax. Yet it is law.
The narcissistic self-anointed activists have overreached, and it will be their undoing.
"We're copying the EU" except the EU took $1.50 per capita over 5 years, and we're taking 250 times as much.
The selfish include the parasitic members of the species homo-sapiens — they who produce little of value, but demand the rest provide them with food, housing and rewards. These demands are enacted through the government, under the guise of "helping" to prevent a non-existent threat.
The deluded include many people of good will, who are too busy (working to support the parasitic class) to check that their news sources, schools, and government officials are giving them both sides of the story, or that their search engines are behaving fairly (who would know?).
People can simultaneously belong to both groups. Some of the parasitic class, deceive themselves that they are helping. They take no responsibility for the children who drowned in floods they said would never come. They will never know, nor apologize to those who die prematurely of diseases that could have been cured. They think not of all the invisible jobs that were gone before they were offered, or the factories that moved overseas.
Interview with Joanne Nova
This text will be replaced
Broadcast of October 20, 2011. Part 1 of 1
»
Download mp3:
click here
Tonight we welcome Joanne Nova to the show.
Joanne is one of Australia's most articulate and outspoken climate sceptics. Her website is an international hub for informed discussion on questions of climate, carbon trading and the economy.
Joanne's husband, Dr. David Evans, is a mathematician and engineer, with six university degrees including a PhD from Stanford University, who formerly worked at the Australian Greenhouse office (now the Department of Climate Change), modeling Australia's carbon in plants, debris, mulch, soils, forestry and agricultural products. Together, Joanne and her husband have lectured extensively across the country on why the carbon tax is a flawed solution to a non-existent problem.
In tonight's discussion Joanne talks about the reasons why she became sceptical of mainstream climate science, and gives us her opinion on the possiblility of rolling back the carbon tax. We also talk about the Occupy Australia movement and our hope that this popular movement may come to realise that "carbon trading" is an extremely dubious commodity market overseen by a predatory and corrupt banking system - the very thing they are protesting against.
From Joanne's website:
Jo Nova is a science communicator, she's presented science on TV, radio, on stage, in cartoons, exhibitions, reports and now in her blog which over 200,000 people visited in 2009.

After winning prizes in her science degree in molecular biology, Joanne joined the Shell Questacon Science Circus and spent five years touring Australia first as a performer, then as manager of the half million dollar exhibition with a team of twelve. As an associate lecturer at ANU Joanne helped to develop the Graduate Diploma in Science Communication in its earliest years.

In the last two years Joanne has focused on the science of monetary systems, financial history, the gold market, and has also become heavily involved in communicating the science of carbon's role in Climate Change. Joanne attended the UNFCCC in Bali Dec 07 as a delegate, has spoken in New York at the International Climate Change Conference, and to Staffers of the US Senate in Washington, as well as to Australian leaders of business and banking at Consilium, for the Centre for Independent Studies.

Over 220,000 copies of The Skeptics Handbook have been published, printed and distributed in the US, Australia, NZ and Sweden. It was done entirely pro bono, and volunteers have translated it into French, German (twice), Swedish, Norwegian, Finnish, Turkish, Japanese, Danish, Portuguese, Balkan, Spanish and Thai. Italian, Lao, Slovenian and Dutch versions are coming.
In the final segment of the show I am joined on the phone by protester Steph, directly from the the Occupy Sydney rally at Martin Place. In this bombshell interview Steph confirms that the movement is being co-opted and infiltrated by the Green Left, exactly as we described in our previous show.
The good news is that many of the people at the protest are awake to what is going on, and are working hard to keep the group open and, as Steph puts it, beyond the left/right paradigm, which is merely a tool for the oligarchy to keep people controlled and divided.
I hope you enjoy tonight's show!
Related Links
Occupy Australia - has this movement been hijacked by the green left?
This text will be replaced
Broadcast of October 17, 2011. Part 1 of 1
»
Download mp3:
click here
Tonight I am joined by Craig Stanford to reflect on the occupy Reserve Bank protest which we filmed on 15 October 2011.
In our discussion we look at some of the techniques being used to create "group consciousness" at the protests here and overseas, such as hand signs and chanting, and we ask whether such tendencies are supportive of human freedom.
Although the protesters claim they are the 99%, our finding is that they are largely made up of anti-capitalist, socialist, collectivist and eco-fascist minorites within our society.
There was no sign of the huge anti-carbon tax movement, which, according to many polls, represents the views of the vast majority of Australians.

Speakers at the event were heavily promoting the "action on climate change" mantra, and the strong presence of the socialist alliance and green left weekly further reinforces the impression that this movement is essentially owned by the radical left.
Does the socialist flavour we saw in Sydney reflect the tendencies of the wider global movement? According to Charles Gasparino of the Murdoch-owned New York Post,
It's not an overstatement to describe Zuccotti Park as New York's Marxist epicenter. Flags with the iconic face of the Marxist revolutionary Che Guevara are everywhere; the only American flag I saw was hanging upside down. The "occupiers" openly refer to each other as "comrade," and just about every piece of literature on offer (free or for sale) advocated socialism in the Marxist tradition as a cure-all for the inequalities of the American economic system.
In Rome, the violence has been blamed on left-wing groups, which is predictable, but possibly an attempt to demonise groups which the government wishes to suppress.
Overall, there is still much potential for this movement to become a force for positive change, but there is also a huge opportunity for it to become merely another vehicle for those who think they can steer human civilsation in a particular direction.
Under the title "Why are we outside the Reserve Bank of Australia?", Occupy Sydney features this comedy sketch from 2008.
The "occupy" groups have been conducting what they call "general assemblies", a term reminiscent of the United Nations.
The Sydney group has stated:
The GA works on a basis of consensus decision making, and therefore is the only accurate way of representing what the entire group wants the world to know. The Occupy Sydney general assembly at Martin Place aims to provide a forum for all voices to be heard and are constantly learning better ways to be inclusive of all perspectives.
Related Links