Schapelle Corby: drug courier or political prisoner?
This text will be replaced
Broadcast of April 22, 2010. Part 1 of 1
»
Download mp3:
click here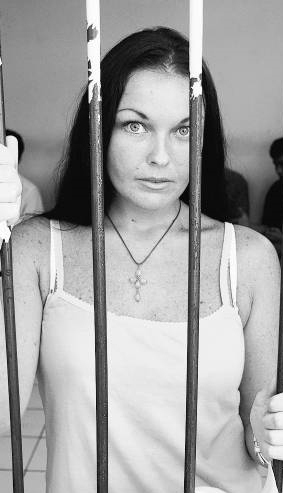 Schapelle Corby is currently serving a 20-year sentence for the importation of 4.2 kg of cannabis into Bali, Indonesia. Her conviction was based entirely on the prima facie evidence of marijuana in her luggage, and despite numerous requests by her defence team, no forensic evidence was ever produced linking Schapelle to the marijuana found in her backpack. Neither has Schapelle ever been linked to a drug distribution network. The judge who convicted her never returned a "not-guilty" verdict in 500 cases.
At the time of her arrest there was a great deal of diplomatic tension between Australia and Indonesia. The Australian government was pressuring Indonesia to arrest
Abu Bakar Bashir
, who was believed at the time to be behind the
2002 Bali bombing
. Indonesia was not compliant, and many Indonesians felt that Australia was interfering in their affairs once again as they had during the East Timor crisis a few years earlier. After Schapelle's arrest the diplomatic row escalated and there were fears that brooding resentment on both sides could lead to violence.
Something had to be done.
Schapelle said from the beginning the drugs were not hers, and for six months the Australian people and even high level government representatives were right behind her, but then a funny thing happened. Suddenly the major news networks began running stories filled with innuendo and journalistic spin, hinting that Schapelle might be guilty after all. The first of these damaging stories was released one week before her final court hearing in Bali, and carried the unsubstantiated rumour that
Australian hydroponic dope
was commonly sold in Bali under the name "Aussie Gold". In between her conviction and final appeal scurrilous rumours about Schapelle and her family were circulated in every newspaper and TV channel in the country, including the tax-payer funded ABC. None of these rumours has ever been proven, and indeed the High Court found that Channel Seven had defamed the character of Schapelles' sister Mercedes.
Since her final appeal was rejected Schapelle's mental state has deteriorated. She is now in a state where she needs constant medical care. Her government and the Australian people have turned their backs.
What will you do?
Tonight we welcome Schapelle Corby's uncle Shun Hatton back to the show for the latest news on the case. If you would like to help Schapelle please visit
www.freeschapelle.com.au
.
NOTE
: At the beginning of the show we announced an interview with futurist
Jacques Fresco
which did not take place. TNRA apologises for any inconvenience caused.
Related Links
It runs on water!
This text will be replaced
Broadcast of July 8, 2009. Part 1 of 1
»
Download mp3:
click here
Tonight
Ashtweth Palise
returns to the show with the latest news from the Open Source Free Energy movement.
Ashtweth runs two websites which we commend to our listeners:
What is "Free Energy"?
This is a highly controversial term, even amongst those who believe it is possible to extract large and useful amounts of energy by unconventional means. The word Free could imply there is no cost and is somehow magical. That is not correct, perhaps cheap is a better term; and the well-documented science behind many of them certainly is not magic. These devices will of course cost money, and there will be significant limitations to their efficiency and effectiveness; especially until they are developed further.

Free also pertains to the fact that they are all pollution free, using no external chemical fuels and often requiring much less electricity to operate than they output (or least being much more efficient than traditional means). But perhaps the most accurate use of the word Free would relate to the change in society that these inventions would bring: Freedom from the electrical grid and filling stations Freedom from an economy built on scarcity. And freedom from the need to pollute our planet to maintain a high level of civilization.
http://www.opednews.com/articles/...jibbguy-080623-466.html
For an introduction to the core ideas behind the various technologies discussed in the show I recommend the documentary
It runs on water
which was aired on British television in 1995.
In the second half of tonight's show we examine the explosive  implications of statements made recently by the U.S. Vice President Jo Biden to the effect that  Israel has a  "sovereign right" to attack Iran. These statements were made in an
interview with
George Stephanopoulos aired on ABC television (U.S) on 5 July.
More links:
George Stephanopoulos' interview with V.P. Joe Biden in Iraq - Jul 05, 2009
http://www.youtube.com/watch?v=h4FdQjlyBn8
Review  - "The International"
In the final segment of the show I review the film "
The International
", with a short clip and some commentary.
Film trivia:
An explosive shootout scene takes place inside New York's famous Guggenheim Museum, in which the museum appears to take severe damage. To film the scene, the film's production team used the Guggenheim's original blueprints to build a full-size replica of its interior in an old abandoned locomotive warehouse. Construction of the replica took 4 months.