Full body scanners now in operation at Sydney International Airport
This text will be replaced
Broadcast of March 27, 2013. Part 1 of 1
»
Download mp3:
click here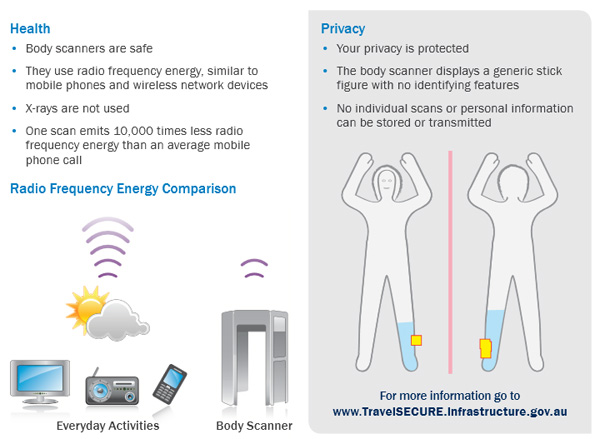 In today's show we re-visit the thorny issue of full body scanners and what they signal for your rights, your privacy, your health and human freedom generally.
Full body scanners (millimitre wave) are now in operation at all international airports in Australia. The devices deployed in Australia include what is called "privacy protection" in that the images displayed to operators show a stylised "stick figure" version of the human body. Despite this welcome enhancement, it is still nonetheless true that going through these devices is equivalent to a "strip search" - something that is not normally expected by law abiding citizens going about their daily business.
What if I refuse a body scan?

If a person refuses to undergo a body scan, and they have no medical or physical condition which prevents them for undertaking a body scan, they will be refused clearance and not allowed to pass through the screening point. They therefore will not be allowed to board their aircraft. This policy not only applies to passengers, but also to pilots, other aircrew, government officers and airport staff. - source
We propose on the show that a national movement of opposition and lawful rebellion against the degrading practice of strip searching air travellers needs to be a top priorty for all who value freedom.
Related Links
Exposing the criminal injustice system with George Georgios
This text will be replaced
Broadcast of June 6, 2012. Part 1 of 2
»
Download mp3:
click here
This text will be replaced
Broadcast of June 6, 2012. Part 2 of 2
»
Download mp3:
click here
In today's show we are joined in the first hour by Josh Jackson from Germany. We cover the fiscal crisis in Europe and Josh gives us some interesting insights.
In the second hour George Georgios returns to talk about the systemic injustice and corruption within the criminal justice system. George has many insights into this subject based on in depth interviews with both prison inmates and judicial authorities.
Some news stories covered in this show include the shocking news from New Zealand that the courts now have been given control of the reproductive rights of women, with powers to issue a blanket ban on having babies to women deemed to be at risk of harming or neglecting their offspring.
We present an excellent video released by Koozzoo Media, highlighting the risks associated with full body scanners.
We also take a critical look at recent news on the Carbon Tax, with the Climate Change Minister, Greg Combet, stating that the Carbon Tax is "here to stay".
Related Links
Radiographer Anthony Hall slams EU safety report on airport body scanners
This text will be replaced
Broadcast of May 17, 2012. Part 1 of 2
»
Download mp3:
click here
This text will be replaced
Broadcast of May 17, 2012. Part 2 of 2
»
Download mp3:
click here
In the 2nd hour of today's show, Anthony Hall returns to critique the newly released report from the European Commission on the health effects of of x-ray body scanners.
Anthony Hall is a Senior Reporting Radiographer, and holds a Bsc (hons) in Diagnostic Radiography. He is responsible both for the imaging of patients and producing medical reports. He further holds the position of radiation protection supervisor at the hospital where he works. Mr. Hall is therefore well qualified to give an opinion on the quality of the EC report and on the safety of x-ray scanners generally.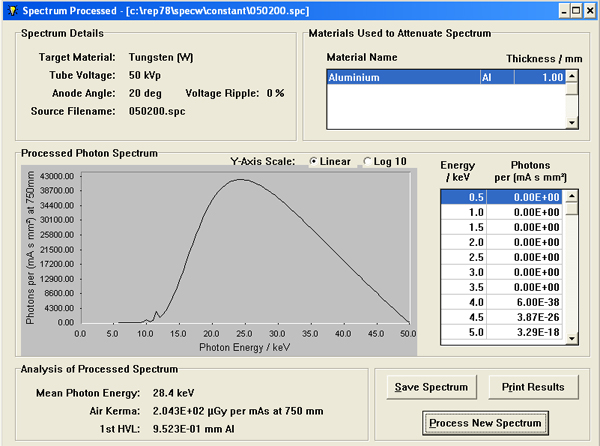 The EU assessment of body scanner health effects was based on computer simulations such as the above.
During our discussion we look at the new report in the context of previous reports and the concerns which have been rasied by experts in the past. It becomes clear that this report merey repeats the flawed methodology which has been severely criticised by Professor J.W. Sedat in a 2011 letter to Barrack Obama's Science Advisor John Holdren.
In the first hour I am joined by George Georgios to discuss the European fincancial crisis, with an emphasis on Greece. Mr. Georgios is Greek by birth and has a deep understanding of the Greek people and their culture.
I do hope you enjoy this week's podcast!
Related Links
Invasion of the body scanners
This text will be replaced
Broadcast of May 10, 2012. Part 1 of 2
»
Download mp3:
click here
This text will be replaced
Broadcast of May 10, 2012. Part 2 of 2
»
Download mp3:
click here
In today's show we look at a variety of news and issues of the day, with a special focus on a new safety report on airport body scanners which was released by the EU last week. This development now opens the door to the roll out of these carcinogenic machines across Europe and potentially into Australia, which has already authorised the use of the less toxic (and less effective) millimeter wave scanners in our international airports.
We present some of the key health concerns over x-ray scanners raised by experts in the past few years and then take a look at the EU report to see if it addresses any of these concerns. Perhaps unsurprisingly for those who have followed this topic for a while, the major concerns highlighted in the past have been largely ignored.
In the second hour I am joined by aircraft engineer John Bursill to reflect on the latest developments in Australian politics, the body scanner question, the Aghanistan war and more.
I hope you enjoy the show, and please get back to us if you have any thoughts or questions!
Related Links
Homeland Security Concedes Airport Body Scanner 'Vulnerabilities'
Federal investigators "identified vulnerabilities in the screening process" at domestic airports using so-called "full body scanners," according to a classified internal Department of Homeland Security report.
DHS has spent nearly $90 million replacing traditional magnetometers with controversial X-ray body scanning machines that are intended to detect items that could be missed by a metal detector.
Exactly how bad the body scanners are is not being divulged publicly, but the Inspector General report made eight separate recommendations on how to improve screening.
The news comes as authorities are examining an underwear bomb, allegedly seized by the CIA in Yemen as it allegedly thwarted an Al-Qaida plot to destroy a U.S.-bound airplane, according to The Associated Press. Authorities are now looking to determine if the bomb could have passed through airport screeners without being detected.
Meanwhile, an unclassified version of the Inspector General report, unearthed Friday by the Electronic Information Privacy Center, may give credence to a recent YouTube video allegedly showing a 27-year-old Florida man sneaking a metallic object through two different Transportation Security Administration body scanners at American airports.
Naked body scanners could be soon be in all UK airports after EU ruled they are safe
Trials had been halted over fears of harmful radiation
New study reveals risk to passengers is 'close to zero'
Controversial 'naked' body scanners could be introduced at all UK airports after top scientists declared them safe.
Manchester Airport has been trialling the device - known as back scatter scanner - since 2009, but the European Commission halted new trials last year amid concerns there was a risk to passengers' health from high levels of radiation.
But an EU study has decided that the risk from the scanners, which use X-rays to scan through clothing to produce images of passengers, is 'close to zero' and no greater than other factors.
A report said the radiation from a single passenger scan is 'equivalent' to the natural background radiation received within an hour on the ground or during ten minutes on a flight.
It added that the doses per scan were 'well below the public dose limit', although the long-terms effects, such as cancer risks, could not be dismissed entirely.
The European Commission is now expected to approve the technology and the scanners could be rolled out to other UK and European airports.
DNA Breathing Dynamics in the Presence of a Terahertz Field
A scientific study on the effects of terahertz radiation (used in some body scanner imaging systems).
ABSTRACT
We consider the influence of a terahertz field on the breathing dynamics of double-stranded DNA. We model the spontaneous formation of spatially localized openings of a damped and driven DNA chain, and find that linear instabilities lead to dynamic dimerization, while true local strand separations require a threshold amplitude mechanism. Based on our results we argue that a specific terahertz radiation exposure may significantly affect the natural dynamics of DNA, and thereby influence intricate molecular processes involved in gene expression and DNA replication.
Subjects: Biological Physics (physics.bio-ph); Computational Physics (physics.comp-ph)
Journal reference: Physics Letters A, Volume 374, Issue 10, 2010
Sweaty armpits could trigger airport scanners
FULL-BODY scanners being introduced at Australia's eight international airports could be triggered by sweaty armpits and a passenger's posture, a counter-terrorism unit has warned.
In German trials of the body-scanning technology, false alarms were recorded and sweaty armpits were among the culprits, slowing down departure lanes, according to Tasmania's Department of Police and Emergency Management.
"There are already long delays at airports, so this issue needs to be addressed," the unit says in a submission to a Senate committee inquiring into the millimetre-wave body scanners.
Germany ditched the scanners after too many false alarms but they are in use in some parts of Europe and the US.
The Australian Airline Pilots Association has raised similar concerns about the potential for false positives and has said it wants screening with the machines to be voluntary.
A spokeswoman for Infrastructure and Transport Minister Anthony Albanese defended the technology.