Obama Signs the NDAA Citizen Arrest Act
This text will be replaced
Broadcast of January 6, 2012. Part 1 of 1
»
Download mp3:
click here

Obama signing the National Defense Appropriations Act
Tonight we look at a variety of local and international stories, with a focus on the ominous passing of the National Defense Appropriations Act (NDAA). The Act allows for the military detention of American citizens without due process, about which writer and activist Naomi Wolf has this to say:
Our leaders appear to be supporting this bill thinking that they will always be what they are now, in the fading light of a once-great democracy — those civilian leaders who safely and securely sit in freedom and DIRECT the military. In inhabiting this bubble, which their own actions are about to destroy, they are cocooned by an arrogance of power, placing their own security in jeopardy by their own hands, and ignoring history and its inevitable laws. The moment this bill becomes law, though Congress is accustomed, in a weak democracy, to being the ones who direct and control the military, the power roles will reverse: Congress will no longer be directing and in charge of the military: rather, the military will be directing and in charge of individual Congressional leaders, as well as in charge of everyone else — as any Parliamentarian in any society who handed this power over to the military can attest.

Perhaps Congress assumes that it will always only be 'they' who are targeted for arrest and military detention: but sadly, Parliamentary leaders are the first to face pressure, threats, arrest and even violence when the military obtains to power to make civilian arrests and hold civilians in military facilities without due process. There is no exception to this rule. Just as I traveled the country four years ago warning against the introduction of torture and secret prisons – and confidently offering a hundred thousand dollar reward to anyone who could name a nation that allowed torture of the 'other' that did not eventually turn this abuse on its own citizens — (confident because I knew there was no such place) — so today I warn that one cannot name a nation that gave the military the power to make civilian arrests and hold citizens in military detention, that did not almost at once turn that power almost against members of that nation's own political ruling class. This makes sense — the obverse sense of a democracy, in which power protects you; political power endangers you in a militarized police state: the more powerful a political leader is, the more can be gained in a militarized police state by pressuring, threatening or even arresting him or her.
I am joined in the second segment by John Bursill, who reports on some new research from the Journal of 9/11 Studies.
Related Links
Pentagon Attack: the northside flyover theory
This text will be replaced
Broadcast of October 11, 2009. Part 1 of 1
»
Download mp3:
click here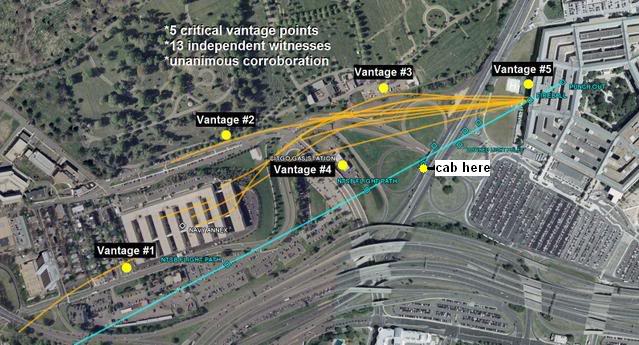 Today it is my pleasure to talk to Craig Ranke of the Citizen Investigation Team, a two man operation which has been investigating the Pentagon attack for several years now. Their latest production is a film titled "National Security Alert".

The central thesis of the film is that the flight path of the plane believed to have struck the Pentagon was to the north of the Citgo gas station, making it impossible for the plane to have downed several light poles as claimed in the official report. The film further asserts that the plane executed a flyover which was synchronised with an explosion within the building.

Craig's work has sparked considerable division and acrimony in the 9/11 research community and accusations of deliberate disinformation have been levelled. We present some critical analysis below:
I should emphasise that TNRA does not offer this interview as an endorsement of either side in this debate. Clearly there is a controversy and our job is to try to give both sides of the argument a decent hearing.

I look forward to your comments and criticism.



NATIONAL SECURITY ALERT - SENSITIVE INFORMATION from Citizen Investigation Team on Vimeo.
What hit the Pentagon?
This text will be replaced
Broadcast of August 19, 2009. Part 1 of 1
»
Download mp3:
click here
Tonight we welcome Dr. Frank Legge back to show for an extended discussion on one the most vexed questions about 9/11: what hit the Pentagon?

Dr. Legge has written an important paper on this topic which has been published at the Journal of 9/11 Studies.

As Dr. Legge stresses, there are two essential points to note:


Nothing should have hit the Pentagon.


This implies a stand-down order existed, as appears to be confirmed by Mineta's testimony to the 9/11 Commission.The authorities could easily show us what hit the Pentagon but they do not.


Many researchers are not satisfied with stopping at these reasonable claims however, and want to propose more detailed theories about what really happened. During the show we critically examine some of the theories, with the help of Dan Collins, a regular contributor to TNRA.

We present below several key pieces of evidence often cited in investigations of the Pentagon attacks.

Below we reproduce the Pentagon Building Performance Report image showing that "no portion of the outer two-thirds of the right wing and no portion of the outer one-third of the left wing actually entered the building".
More Images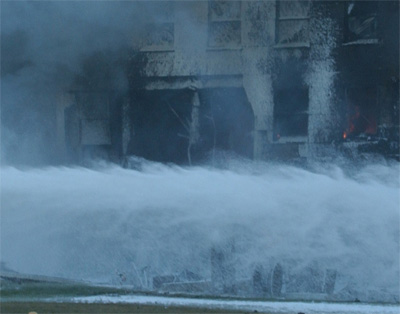 Entry hole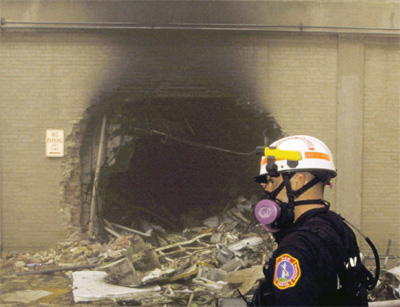 Punch out hole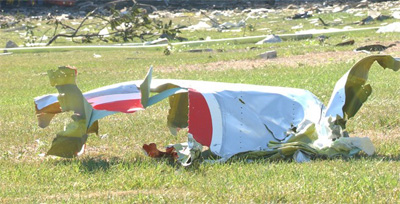 Flight 77 Wreckage

More Links:
F4 Phantom Vs Wall

http://www.youtube.com/watch?v=l7eI4vvlupY