Aussies Wanna KISS!
This text will be replaced
Broadcast of November 3, 2010. Part 1 of 1
»
Download mp3:
click here
Tonight we welcome Rachel Emmes, author of "AUSSIES wanna KISS" (Keep It Simple Stupid), a new book which outlines problems and suggests solutions to the growing power of the "corporatocracy" and loss of true democracy in Australia.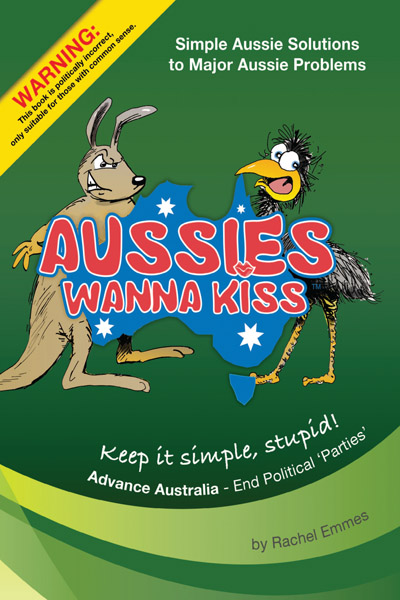 This is a very important interview which we urge you to share with as many people as possible.

FROM THE PRESS RELEASE:
Aussies appreciate and desperately want to grasp opportunities to Advance Australia for the benefit of every Australian, now and for the future. They want transparency, accountability and a common sense Government operating for them - not just the privileged few. In her newly published book, AUSSIES wanna KISS, author Rachel Emmes gives Aussies an eye-opening read that unveils answers to questions about the real story behind Australia's economy, government, bureaucracy, and more. Alarming "Effects and their Causes" behind what is damaging the lives of Australians, Americans and people living in other democracies and how this can be turned around. She says, "Many of the concepts and ideas are not unique and are in fact timeless, proven methods. Common sense concepts which the majority of Australians want to see implemented and achieved by a government working for us".

Rachel has an excellent grasp of the economic and political machinations which have led to our current crisis of democracy - but perhaps more importantly she has a positive outlook and wants to bring people together to bring about positive change.

Please take a moment to view the petition and, if you like what you see, get the book (AU$39.99).

Hope you enjoy the show!

Related Links