Interview: Keelan Balderson on the U.K. civil unrest
This text will be replaced
Broadcast of August 20, 2011. Part 1 of 1
»
Download mp3:
click here
Tonight we welcome to the show Keelan Balderson, editor of wideshut.co.uk, and creator of a great short film on the U.K. riots: Perfect Storm, The England Riots Documentary.
Keelan's film examines the way in which larger geo-political forces, the banker bailouts, austerity measures and large scale corporate criminality have created deep distrust of government across all levels of English society.
During our interview we look at these issues as well as other topics which Keelan has researched, including the 7/7 London bombings.
Also in the show we bring you some Australian news: will the Gillard government be unseated by the unfolding sex scandal over Labor MP Craig Thomson? If the embattled MP were forced to resign, this would require a by-election in the marginal seat of Dobell, which would almost certainly swing back to the Liberals, sweeping Labor from power.
According to former Labor general secretary Graham Richardson:
''Whenever the election, Labor will be slaughtered in Dobell,'' he said.

''The margin is 5 per cent but with the swing as it stands against Labor in NSW and this on top of it, they don't stand a chance. He is history.''
Simultaneously with this unfolding scandal, a convoy of disgruntled citizens from all over the country is closing in on Canberra. The so called "convoy of no-confidence" is a sponanteous alliance of people of all political colours (including many Labor Party members!) who are united in calling for a new election. The key issue which triggered this "peoples' revolt" is the massively unpopular Carbon Tax, which is due to be passed into legislation before the end of the year.
I hope you enjoy the show!
Related Links
A dark satire comes to life: David Cameron's speech to Parliament
This text will be replaced
Broadcast of August 12, 2011. Part 1 of 1
»
Download mp3:
click here
U.K. Prime minister David Cameron has announced sweeping new powers to be given to police to curb violence and restore law and order in the country.
Many of the themes in his speech before Parliament on 11 August are reminiscent of the film "V for Vendetta", which is a satirical depiction of a totalitarian society ruled by a corrupt elite who keep the population in a state of abject fear and dependence through engineered crises and state terror.
Tonight we bring you the audio from that speech with commentary.
In the second half we are joined by Chris Tolland (2RSR Radio Sydney) to reflect upon and discuss the questions and concerns raised by the impending crackdown in the UK.
Please enjoy and share!
Related Links
Everywhere is War
This text will be replaced
Broadcast of September 8, 2011. Part 1 of 1
»
Download mp3:
click here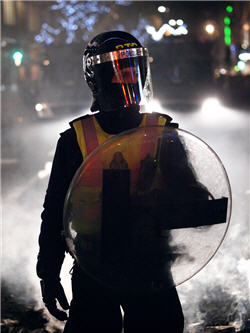 Tonight I'm joined by Josh Jackson as we plough through the maelstrom of international turmoil, including wars, riot and financial collapse.
In particular we look are the UK riots and their relationship to uprisings in the Middle East, as well as the likely fallout from the downgrading of the United States' credit rating.
We also announce the screening in Sydney of a major new documentary by Architects and Engineers for 9/11 Truth.
I hope you enjoy the show!
Related Links