Vaccination and your rights with Bronwyn Hancock
This text will be replaced
Broadcast of July 26, 2012. Part 1 of 2
»
Download mp3:
click here
This text will be replaced
Broadcast of July 26, 2012. Part 2 of 2
»
Download mp3:
click here
Last week we looked at the question of vaccine efficacy and safety. Our discussion today focuses on the question of your rights. Are vaccines compulsory? Can day care centres legally refuse entry to unvaccinated children? Can schools demand vaccination records? Will parents of unvaccinated children receive the government health care rebate?
My guest today in the 2nd hour is Bronwyn Hancock, a passionate advocate of health freedom, who runs the Vaccination Information Service in Sydney, Australia. Bronwyn's organisation provides assistance to many people engaged in custody battles where one parent insists the child must be vaccinated. Such cases often end up in the family court, and Bronwyn has been helping parents who are against vaccines to present legally sound arguments.
The central question addressed in today's show is about fundamental freedom and the rights of parents to decide what is best for their children. This transcends the controversy over the science of vaccines, for it is about our most basic beliefs about how society should be structured. Should we entrust the power of life and death over ourselves and our children to governments and mega-corporations? Should we surrender our free will and independence to the "experts", believing that only they can make the right decisions for us?
Or do we trust our own capacity to think, judge and act in our own best interest?
This vital question, I believe, is at the heart of the crisis in today's democracies, as we progress towards fascism. In the emerging fascist state, the rights of the individual are subordinated to an almost mystical notion of the greater good, as determined by corporate sponsored scientists, technocrats and self serving politicians - who are all exploiting the general population in some way. We are being lied to, ripped off, lectured to, and injured by those who run the key institutions at the heart of our society.
This situation is clearly intolerable, and there must ultimately be a revolution of sorts to restore basic common law and morality to our body politic. Let's hope the revolution can be achieved peacefully.
I hope you enjoy the show!
Related Links
Meryl Dorey on vaccine safety
This text will be replaced
Broadcast of July 19, 2012. Part 1 of 2
»
Download mp3:
click here
This text will be replaced
Broadcast of July 19, 2012. Part 2 of 2
»
Download mp3:
click here
Our guest today for the 2nd hour is Meryl Dorey, who runs the Australian Vaccination Network, a non-profit organisation which sets out to inform people about the hidden facts regarding both the efficacy and safety of vaccines.
As noted in last week's show, Meryl has been investigated by the Health Care Complaints Commission (HCCC) due to her vocal criticism of mainstream medical science.
In July 2010, the HCCC issued a warning after the AVN failed to comply with its recommendation to disclose on its website that the group's purpose was to provide anti-vaccination information. The AVN appealed, and in February 2012 the NSW Supreme Court ruled the HCCC should not have issued a public warning at all - and was not within its jurisdiction in doing so.
In addition to the official investigations, Meryl has been the target of an aggressive campaign from a lobby group calling itself "Stop the AVN", whose goal is to completely silence the AVN, and by implication, anyone one else who might dare to publicly challenge the absolute authority of the of the government/corporate partnerships which control our health care system.
From the AVN website:
By the time an Australian child is 12 months old, they will receive 23 vaccines and by the time they start school, that number will more than double. We owe it to our children to be fully informed about all aspects of vaccine safety and effectiveness. If we don't investigate this issue fully, we may not be doing the best thing for our children or for ourselves.

The Australian Vaccination Network, Inc. (AVN) has been operating since 1994 with a mandate to provide scientifically-sourced information on this complex and difficult issue. We believe that everyone has the right to access all available data on vaccinations, immunisations, immunizations, inoculations – whatever you choose to call them. The government and the medical community provide you with one side of the story – the AVN gives you the other side. Taken together, this data will allow you to make the best possible decision for the health of your child.
Our discussion today covers a broad range of questions in relation to the safety and efficacy of immunisation. Meryl also documents some of the protracted legal struggle in which she has been engaged, simply for asserting the right to present an alternative opinion to the public on matters of health.
Related Links
Free speech in Australia under threat
This text will be replaced
Broadcast of July 12, 2012. Part 1 of 2
»
Download mp3:
click here
This text will be replaced
Broadcast of July 12, 2012. Part 2 of 2
»
Download mp3:
click here
DISCLAIMER: This article is NOT an advertisement for "black salve", nor should it be construed as promoting the use of "black salve".
We tend to believe that in Australia, despite excessive taxation, nanny state legislation, over-regulation and a spiralling cost of living, we at least have free speech, right?
At least we are not like China where the government has a list of banned topics that cannot be discussed publicly, right?
Wrong!
Our government, via a maze of bureaucracies, can and does prohibit discussion, even in a purely journalistic way, about alternative health products and therapies which are not "approved" by the Therapeutic Goods Administration (TGA). TGA (the equivalent of the FDA in the US) has wide ranging powers to prevent the sale, advertising and apparently even the discussion of non-approved health products, one of which is the purported cancer cure known as "black salve".
My guest today in the 2nd hour is Leon Pittard, host of Fair Dinkum Radio, who has been served with a complaint from the TGA due to an interview he conducted with Meryl Dorey, Director of the Australian Vaccination Network (AVN), a non-profit organisation which helps people make informed decisions about vaccines.
The AVN has been targeted for several years by pro-vaccine lobbyists whose website, "Stop the AVN", declares that "the anti-vaccination propaganda issued by the AVN and its President, Meryl Dorey, is a menace to public health". This group has been behind complaints against the AVN which were upheld by another government organisation, the "Health Care Complaints Commission" (HCCC).
More recently, the AVN was ordered to stop selling a DVD titled One Answer to Cancer, which promotes the use of a herbal remedy known as "black salve". Despite complying with the demand to remove the DVD from sale on their website, the AVN and Leon Pittard are now being harassed simply for talking about the subject during an interview on Fair Dinkum Radio on on 5 May 2012.
Leon Pittard has documented the entire saga in his article and press release, "Australian thought police target free speech".
Next week we will be interviewing Meryl Dorey to get her perspective on this deeply troubling chain of events.
VIDEO ON BLACK SALVE FROM PANACEA BOCAF
Related Links
Channel Nine's assault on vaccine sceptics decoded
This text will be replaced
Broadcast of June 20, 2011. Part 1 of 1
»
Download mp3:
click here


Ellen Fanning (right) takes on Bronwyn Hancock (left) and Dr. Vera Scheibner (centre).
On 10th June 2011 Channel 9 aired a "60 Minutes" episode which contained a crude piece of propaganda aimed at undermining the credibilty of vaccine sceptics.
The program featured Bronwyn Hancock - a regular guest on TNRA, and Dr. Viera Scheibner, a leading researcher in the anti-vaccination field who has been writing and giving lectures on the subject matter of vaccines and vaccinations since her retirement from the Department of Mineral Resources, New South Wales, Australia in 1987.
Hosted by Ellen Fanning and titled "Getting the Point", the program purported to be an in-depth look at the anti-vaccine movement, but was really nothing more than a crudely crafted character assassination, serving Big Pharma's blatantly fascist agenda of crushing all dissent from mainstream medical practice, and any alternative approaches to health.
In tonight's show I am joined by Bronwyn Hancock who deconstructs, point by point, the lies promulgated by Channel 9 and 60 Minutes.
Please enjoy!
NOTE: We present the following quote in support of Bronwyn's observations about the emergence of polio in the 20th century: "Major polio epidemics were unknown before the 20th century; localized paralytic polio epidemics began to appear in Europe and the United States around 1900" - wikipedia.
Related Links
Fascism Then and Now: A Special Report by Hereward Fenton
Since the September 11 2001 terrorist attacks many western countries have experienced an erosion of the freedom which I was brought up to believe was a guaranteed, non-negotiable part of modern society. In retrospect it appears that this freedom was only ever attained tentatively and required constant vigilance in order to prevent us slipping back into more barbaric forms of social organisation.
PART 1

http://www.youtube.com/watch?v=eagn7i5qhYw
This backsliding has led to the global re-emergence of social and economic trends which I am calling fascist, although to the casual observer these may seem to have little in common with classic fascism of the early 20th century.

It is only by studying the underlying mechanisms of social control and economic manipulation that the current trends can be properly understood. This video identifies some of those trends with sources you can easily verify through an internet search.
PART 2

http://www.youtube.com/watch?v=-lft1yLU9E4

It is hoped that this video will serve as a wake-up call and a warning to those who are still slumbering in ignorance of the approaching catastrophe.

If you agree with this video and find it insightful, please share it, preferably with those who are not yet awake to the threat which we face.
You are free to copy this video and redistribute in any format.

This video contains excerpts from Leni Riefenstahl's "Triumph of the Will" and Newsreel footage from WWII - reproduced under "fair use" terms.

Music is from "Carmina Burana", by Karl Orff.
Hereward Fenton
The air traveller's dilemma: X-ray strip search or degrading groin grope?
This text will be replaced
Broadcast of November 17, 2010. Part 1 of 1
»
Download mp3:
click here
Remember the days when taking a commercial airline flight was an exciting, fun experience? Well those days are long gone, and the discomfort factor is set to get a whole lot worse. With the widespread introduction of naked body scanners and "enhanced patdowns" this year air travel in America has come to resemble a prisoner exchange program. Air travellers (including toddlers) can now expect to be groped during pat-downs, or threatened, hand-cuffed and sued if they refuse to submit to one of either mutagenic x-ray scans or hands-on molestation by airport security personnel.

The world's largest pilot's association has boycotted full-body scanners, while passengers have likened the new enhanced pat-down technique to "foreplay". Indeed, the problem has got so bad that many air-travellers have now decided they would rather give up flying altogether than submit to these indecencies.

Tonight we bring you all the latest news from this unfolding debacle, including the hopeful signs that top legislators are now moving to have these violations of human rights legally abolished.

Also in tonight's show we cover the latest incremental steps towards tyranny in Australia with new anti-terror amendments giving the police the ability to search your home without a warrant.

We also cover the Federal government's last desperate push to ram a carbon tax down the throat of an increasingly uncooperative populace, and in doing so resorting to blatant bullying and direct threats, exemplified in a recent opinion piece by Julia Gillard in the Sydney Morning Herald titled "Carbon price now or we'll pay later".

Thanks for listening!

Related Links
9/11 conspiracy discussed on the floor of Parliament
This text will be replaced
Broadcast of October 20, 2010. Part 1 of 1
»
Download mp3:
click here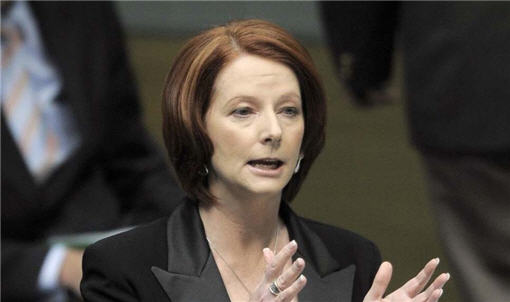 Unionist's 9/11 comments stupid and wrong: Gillard | ABC News.
Julia Gillard has now gone on record in Federal Parliament saying that the substantive claims of the 9/11 truth movement are "stupid and wrong", and tonight we bring you full story behind these developments.
Previously Kevin Bracken, who is the Victorian secretary of the Maritime Union of Australia and president of the Victorian Trades Hall Council,
called in to ABC talkback radio
in Melbourne to say that "the official story doesn't stand up to scientific scrutiny".
The radio host John Faine reacted with dismay and went on to call Mr. Bracken a "nutter" and an "extremist". However it subsequently became clear that
these views had been debated
by the union and the Trades Hall Council and both bodies had passed motions on the issue. Nonetheless, the focus of media and political attention has been on Kevin Bracken at a personal level, which is clearly a smokescreen tactic to divert attention from the fact that there is a massive worldwide movement for a new inquiry into the 9/11 attacks.
BREAKING NEWS (21 Oct 2010)
:  "
Trades Hall president Kevin Bracken stands by his 9/11 conspiracy
"
This morning Mr Bracken phoned into Faine's program again for a right of reply.
He said he wasn't phoning as the president of the Trades Hall council or as secretary of the Maritime Union of Australia.
Mr Bracken stood by his comments and said he had the support of 50 per cent of the community.
He also attacked Faine, claiming he was ridiculed on yesterday's program.
"Unfortunately cowards like yourself have set the political agenda in this country for too long," said Kevin Bracken.
"I won't be cowered down to bullies like yourself." - source
In tonight's show we bring you a swag of other Australian news on a variety of topics which I'm sure you will find interesting.
We finish with a trailer for a forthcoming documentary on the 1995 Oklahoma Bombing (see below) made by Chris Emery, who we hope to have on the show next week.
http://www.youtube.com/watch?v=mZt4SACTIq8
UPDATE (22 October 5:30pm):
A
Herald sun poll
is showing that over 65% of respondents agree with Union leader Kevin Bracken's view that the official explanation of 9/11 does not stand up to scientific scrutiny.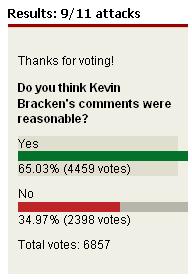 Please enjoy!
Related Links
Mega corporations merge with the feudal super-state
This text will be replaced
Broadcast of September 22, 2010. Part 1 of 1
»
Download mp3:
click here
Tonight we bring you an
alarming story from the UK
, where a government policy paper has been released, proposing that
Her Majesty's Revenue and Customs
(HMRC) effectively would become the paymaster for the entire nation, with wage payments mandated to go to the HMRC first, and then after deductions, into the employee's bank account.
http://www.youtube.com/watch?v=mcgJnL6s2JY
This plan, which of course is nothing less than a brutal power grab by a malevolent clique of corporatist tyrants, may not go ahead, but the mere fact that it has been floated without causing an uproar in parliament or the media must be a cause of great concern to all who respect the basic sovereign rights of the individual which have been enshrined in law since the Magna Carta.
Indeed this policy, if enacted, would return the British people to feudal servitude, with all citizens becoming essentially vassals of a mega-corporation/super-state which would then be able to control the most basic aspect of their lives, namely the simple ability to pay for food and shelter.
In other news tonight we look at the latest vaccine controversies, with
a new report
showing that young children were more likely to end up in hospital because of side-effects from a leading flu vaccine than they were from the illness itself. We also look at the case of
Hannah Poling
, who regressed developmentally after being given nine vaccines in one day, aged just 18 months. The family has been
awarded $1.5 million
by the Federal Vaccine Court, but in a shocking development, the case
has been sealed
, preventing future litigants from gaining access to the evidence or arguments in the case.
Finally we look at the heart-breaking story of
Matt and Janet Thompson
, whose cattle feedlot business was forced to shut down after a three year battle with the government over greenhouse gas abatement rulings which they characterise as "evironmental extremism".  The punitive actions of government bureucrats in this case led to the suicide of their farm manager and bankruptcy for the family. If you would like to help Matt and Janet, you can find more information
here
.
Thanks for listening!
Related Links
Interview with a truther girl
This text will be replaced
Broadcast of September 18, 2010. Part 1 of 1
»
Download mp3:
click here

Tonight we welcome Sonia, host of Canadian radio show "
The Truther Girls
" which broadcasts 3 days per week on
American Freedom Radio
. Sonia and her co-host Karen engage with many issues in common with TNRA.
They also do some really "out-there" comedy on their
youtube channel
as you can see below:
http://www.youtube.com/watch?v=uQ4jT_CHuyQ
Our discussion tonight ranges from 9/11 truth, through vaccines and natural health, and into the spiritual side of the truth movement. Sonia gives her ideas on how people can deal with the paralysing effect of fear when trying to come to grips with the New World Order.
I do hope you enjoy the show - and just in case you really, really enjoy it and would like to assist us financially, I've added a "Donate" button which you'll see on the top right hand side of the page under my photo. Feel free to give as much or as little as you wish! Any money received at this time is going towards the purchase of a professional video camera with which I intend to take our news coverage to the next level.
Thanks (:
Related Links
A tale of Wikileaks and war propaganda
This text will be replaced
Broadcast of July 28, 2010. Part 1 of 1
»
Download mp3:
click here
In tonight's broadcast we take a critical look at the media circus surrounding
the latest Wikileaks release
.
Breaking with usual practice, the
Wikileaks organisation
have released their latest leaks directly through the mainstream press with simultaneous publications in
The Guardian
,
Der Spiegel
and the
New York Times
.
A disturbing outcome is that information in the leaked documents is being used by the media to
incriminate Pakistan
in the Afghan war.
The Pakistan connection was the top story on the BBC World News on the day the documents were released. The Pakistan Government is
vehemently rejecting
these accusations and a Pakistani government spokesperson said that the whole affair was an attempt to sabotage the US/Pakistan relationship. This comes at a time when the US is
stepping up predator drone attacks
against targets in Pakistan.
Clearly, there are multiple agendas at work here.
In the second half of the show I am joined by Josh Jackson to review the new blockbuster film
Inception
.
As usual, we cover all the major breaking stories on our
twitter stream
. Happy listening!
Related Links