Today in the second hour we welcome Richard Gage, AIA and founding member of Architects and Engineers for 9/11 Truth.
Architects & Engineers for 9/11 Truth (AE911Truth) is a non-profit non-partisan organization of architects, engineers and affiliates dedicated to exposing the falsehoods and to revealing facts about the complete destruction of all three World Trade Center high-rises on September 11, 2001.
AE911truth.org is dedicated to the following aims:
Dispelling misinformation and disinformation with scientific facts and forensic evidence
Educating and motivating thousands of architects and engineers as well as the public at large
Obtaining a truly independent WTC investigation with subpoena power
Achieving mainstream media coverage for their cause
In 2009 Mr Gage visited Australia and New Zealand for the 9/11 "Hard Evidence" Conference. While in Sydney Mr. Gage met with Jan Utzon (son of the designer of the Sydney Opera House, Joern Utzon) with whom he conducted an impromptu interview at the Sydney Opera House.
This interview was subsequently covered (in a derogatory manner) by Sean Nicholls in the Sydney Morning Herald.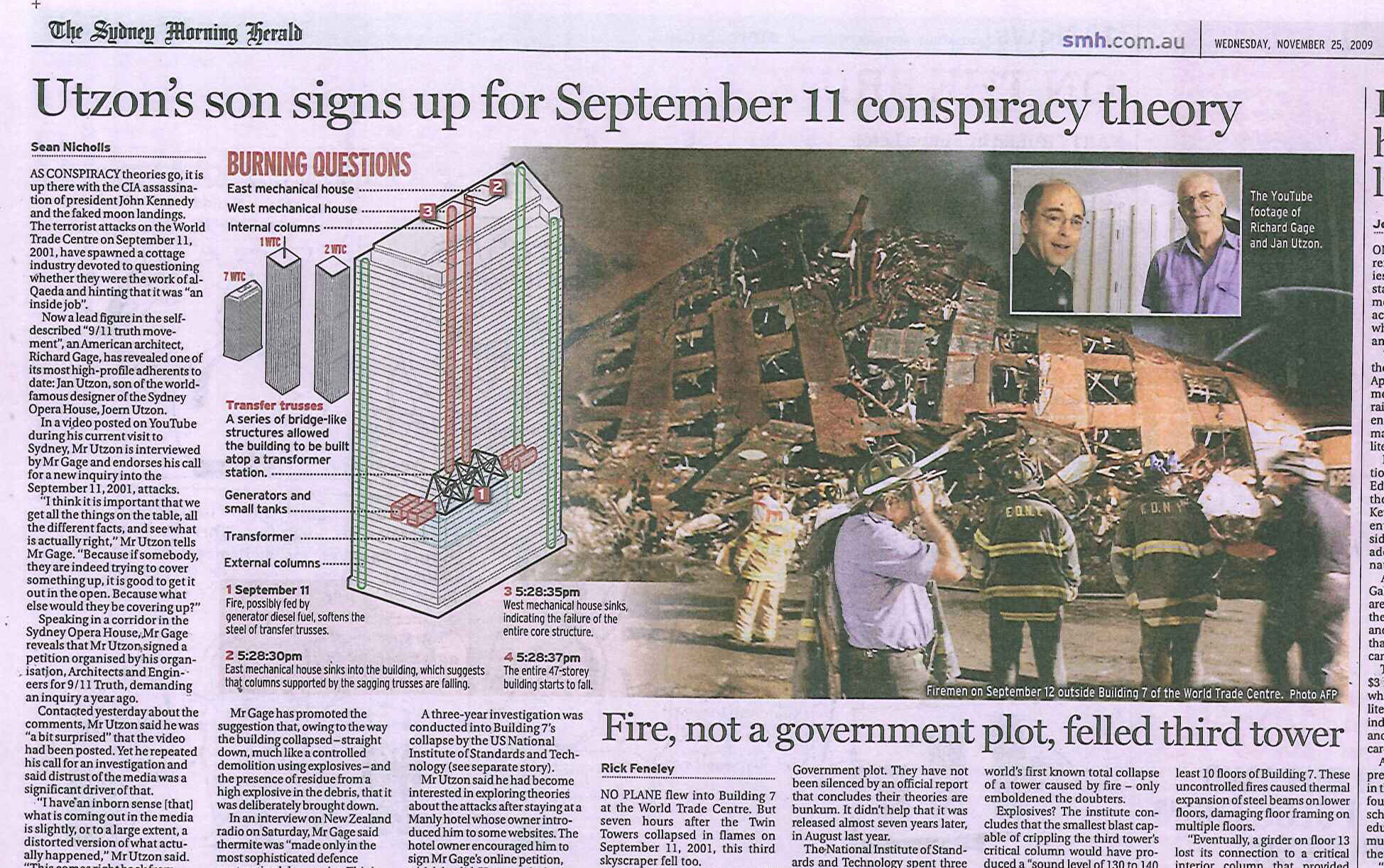 The fact that Richard Gage and his organisation continue to be the focus of crude smears from establishment propagandists is proof that the information he disseminates is extremely dangerous to the corrupt and faltering oligarchy which planned and executed the atrocity of 9/11 in a treacherous bid to secure a global hegemony.
In today's interview Mr. Gage debunks the disinformation disseminated by mainstream media as well as that which emanates from fringe groups who are promoting non-evidence based theories such as the Directed Energy Weapon (DEW) theory of the collapse of the towers. In our discussion Mr. Gage calmly explains the weaknesses of these theories without resort to the ad hominems which often pass for logical argument in mainstream discourse.
We stand with Mr. Gage in solidarity, for the sake of all humanity, and demand truth and justice for ALL the victims of 9/11.
In the first hour of today's show we cover a variety of Australian news and we bring you a snippet from an excellent new documentary on the the CSG industry and its effect on farming.
Related Links