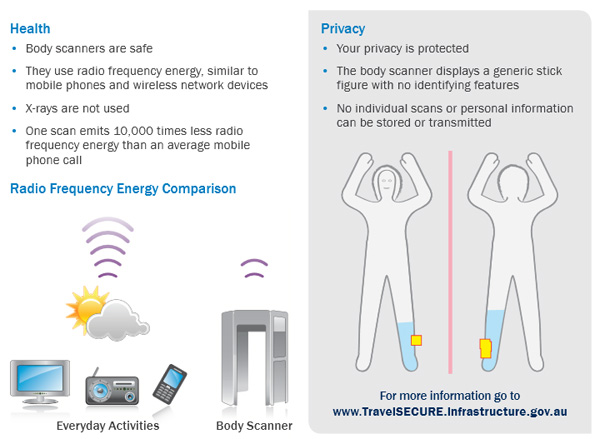 In today's show we re-visit the thorny issue of full body scanners and what they signal for your rights, your privacy, your health and human freedom generally.
Full body scanners (millimitre wave) are now in operation at all international airports in Australia. The devices deployed in Australia include what is called "privacy protection" in that the images displayed to operators show a stylised "stick figure" version of the human body. Despite this welcome enhancement, it is still nonetheless true that going through these devices is equivalent to a "strip search" - something that is not normally expected by law abiding citizens going about their daily business.
What if I refuse a body scan?

If a person refuses to undergo a body scan, and they have no medical or physical condition which prevents them for undertaking a body scan, they will be refused clearance and not allowed to pass through the screening point. They therefore will not be allowed to board their aircraft. This policy not only applies to passengers, but also to pilots, other aircrew, government officers and airport staff. - source
We propose on the show that a national movement of opposition and lawful rebellion against the degrading practice of strip searching air travellers needs to be a top priorty for all who value freedom.
Related Links