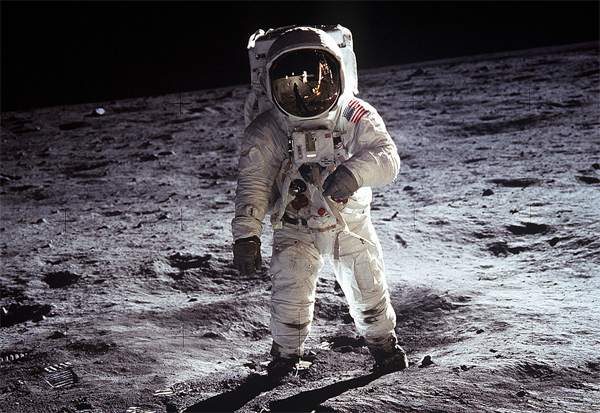 Forty years after the spectacular achievements of the Apollo program humans remain marooned on planet Earth. We hear a great deal of talk about manned missions to the Moon and Mars, but in reality there is nothing going on. The talk about Mars One is little more the a PR stunt at this stage, and any sensible person must wonder how the promoters of this project expect to get there by the ridiculously improbable date of 2023 without any testing or proof of feasibility.
In today's show we are joined by Damon Crowe in the first hour to discuss some of the latest research from impeccable sources which indicates that manned space flight faces a very serious hurdle due to the problem of radiation. This hurdle may ultimately be surmountable but at present it seems clear that the radiation hazards are far too severe to allow humans to travel even to the Moon, let alone Mars.
Damon's research begs the question, did we ever send humans to the Moon in the first place? Based on the technical data available, the answer appears to be a resounding "no!". I know this will anger many listeners, and I wish to stress that TNRA has no vested interest in questioning the Apollo moon landing narrative. Personally I would far prefer to believe that the Apollo missions were real than hold the cynical view that these were staged events created for propaganda purposes. I further believe only time will tell about the truth of the Apollo missions. If further evidence comes to light proving that the Apollo missions were real, I will be delighted, and I will immediately update this website with the news.
In the 2nd hour of today's show we are joined by Jarrah White, creator of the Youtube Moonfaker series. Jarrah's one man mission to debunk the Apollo missions has earned him international notoriety and bevy of haters on the internet. Jarrah is currently studying towards a degree in Astro Physics and we wish him well in his endeavours. Today Jarrah gives us an insight into his own journey as a sceptic and the major figures who influenced him.
Today's show is not presented as a definitive statement about Apollo or space travel, and we acknowledge the extremely problematic and controversial nature of the subject matter. Our mission simply is to get to the truth, however long it takes, and we hope that this show helps in some measure toward that end!