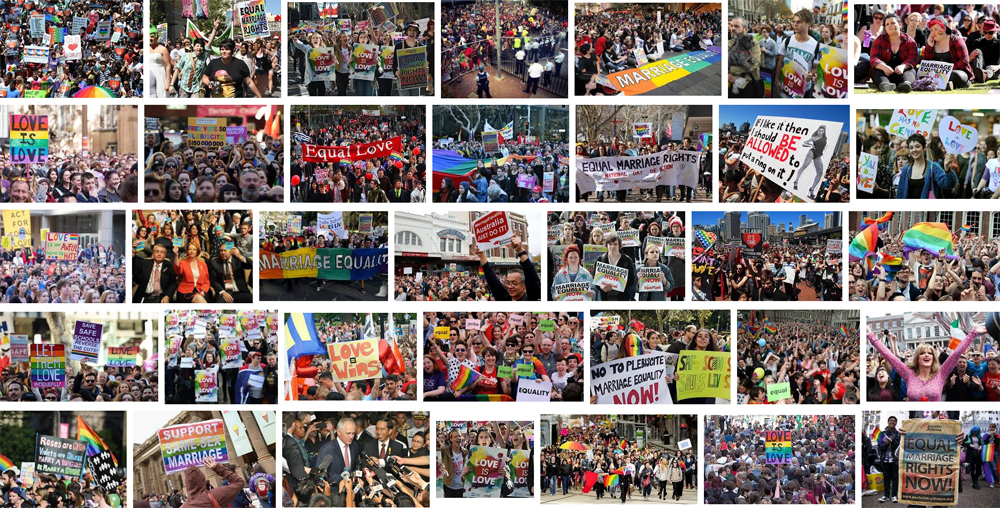 Google montage of same sex marriage protests
Today we delve into the controversy over same sex marriage in Australia. In contrast to most of the public discussion of this concept, today's show looks into the philosophical questions raised by this fundamental shift in Western culture.
We propose that same sex marriage, rather then being a "human right", is primarily a symbol which is part of a much broader plan to re-engineer society and indeed transform our understanding of what it means to be human.
We bring you some fascinating quotes from gay people who are opposed to gay marriage which clearly give the lie to the propaganda meme that opposition to gay marriage stems from hateful, homophobic mindsets.
We also read from a recent article by Paul Craig Roberts, with particular attention paid to the following sentence:
Oligarchic power grows exponentially among the disunity of diversity.
The above could be said to summarise in the most concise possible manner the key message of this podcast.
Western society is being conned by a concept of diversity which is a smokescreen to conceal a ruthless power grab by a failing oligarchy. This power play will fail if and when the average human, whether gay, bi, straight, Muslim or Christian, black or white, wakes up to the scam.
NOTE: Since this show was aired, the Australian Labor party has taken a position, along with the Greens, of blocking the same sex marriage plebiscite.
Related Links