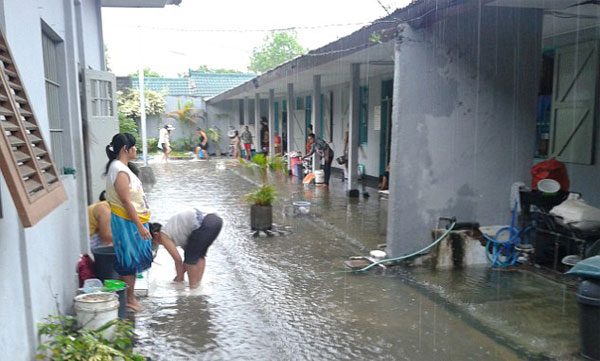 Floods are a common occurence inside Bali's Kerobokan Prison
Today in the second hour we welcome investigative journalist Gerry Georgatos, who will be discussing the Schapelle Corby case in depth and why he believes she is totally innocent of importing 4.2 Kg of marijuana into Bali in 2004.
Schapelle is due to be released on parole shortly and we have once again seen the media engage in baseless attacks on her character, the most outrageous of which was the suggestion on prime time TV, by a woman claiming to be her former lawyer, that Schapelle would be celebrating her release with a huge marijuana joint. In another bizarre smear a major media site published an article suggesting that Shapelle's supporters have exaggerated the pain and suffering caused by her incarceration. An article published on Yahoo 7 (now scrubbed), suggested that life inside Bali's Kerobokan prison was almost idyllic, with prisoners receiving art, reflexology, sewing, knitting and cooking classes. A reference to the deleted article can be found here. The reality, as documented by former inmate Rachel Dougall, is that life inside Kerobokan prison is very harsh indeed, with rampant drug abuse, the constant risk of violence and extremely poor living conditions.
Gerry Georgatos is an independent journalist who writes for The Stringer, and has previously appeared on the ABC 7:30 report exposing the mistreatment of minors held in detention over people smuggling charges.
In today's discussion Gerry makes the startling claim that officials in both the Australian and Indonesian governments have admitted to him privately that they know Schapelle is innocent.
By the time you read this article Schapelle will hopefully be free on parole, however the quest for truth, justice and restitution will have barely begun.
In our interview today Gerry explains that it is vital the Australian people are properly informed about the substantive issues in this case and the wealth of evidence held by the government that goes against the popular belief that Schapelle is guilty as charged.
As for the mainstream media and their decade long barrage of character defamation against the Corby family, this is a matter for all Australians to consider very deeply and to take action on. The media needs to be reformed and there needs to be justice meted out to those who have manufactured lies to protect corrupt government institutions.
The Schapelle Corby campaign will most certainly not end with her release from prison!
Related Links