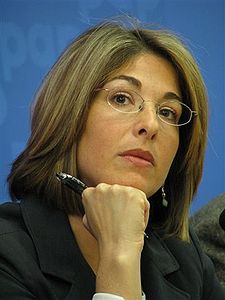 On tonight's show we take a look at a recent article by Naomi Klein titled "Capitalism vs. the Climate". In a key passage, Klein states the following:
"Those with strong 'egalitarian' and 'communitarian' worldviews (marked by an inclination toward collective action and social justice, concern about inequality and suspicion of corporate power) overwhelmingly accept the scientific consensus on climate change. On the other hand, those with strong 'hierarchical' and 'individualistic' worldviews (marked by opposition to government assistance for the poor and minorities, strong support for industry and a belief that we all get what we deserve) overwhelmingly reject the scientific consensus."
This appears to be an admission that the views of the left and the right on climate change are shaped more by their political ideals than by any regard for science based evidence. However, as we have been at pains to demonstrate on this show, the truth is the only thing that really matters, and the attempt to make climate science a political tool to serve agendas for social change is both a betrayal of science and of public trust in scientists. As such it can only be seen as anathema to freedom, democracy and science itself.
Nonetheless this style of thinking, which Klein describes as "communitarian", appears to be very influential and many believe that it is the way of the future.
In part 2 Steph from Occupy Sydney returns to the show to talk about his recent experiences with the group. After the arrest of many of the risk taking free thinkers, he asserts that the movement is now dominated by collectivst "group think", in which all individual expression is suppressed.
A great show!
Related Links