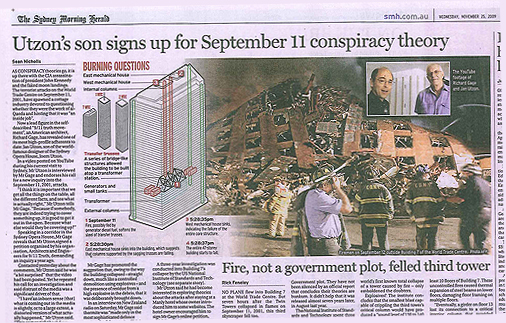 With the publication today of a half page spread in Sydney's leading broadsheet newspaper, we can finally announce that the eight year blackout on reportage of the worldwide movement for truth and justice known as the 9/11 Truth Movement, has finally ended.
This is a very important day for all of us who have fought to bring this information to light, whether through street activism, blogging, or even just trying to convince our friends and family that this is real and important.
Today there are two stories in the Sydney Morning Herald:
Utzon's son signs up for September 11 conspiracy theory
Fire, not a government plot, felled third tower
In tonight's edition of Truth News Radio Australia we discuss these stories with a very courageous hotelier who can justly take some credit for Jan Utzon's "conversion" to the 9/11 truth movement.
No evidence of explosions ..?
A selection of firefighter and rescue worker statements consistent with explosive demolition:



At that time I started walking back up towards Vesey Street. I heard three explosions, and then we heard like groaning and grinding, and tower two started to come down.
--PARAMEDIC KEVIN DARNOWSKI Date: November 9, 2001



Somewhere around the middle of the world trade center there was this orange and red flash coming out. Initially it was just one flash. Then this flash just kept popping all the way around the building and that building had started to explode. The popping sound, and with each popping sound it was initially an orange and then red flash came out of the building and then it would just go all around the building on both sides as far as could see. These popping sounds and the explosions were getting bigger, going both up and down and then all around the building.
-- CAPTAIN KARIN DESHORE  Interview Date: Novermber 7, 2001



I looked back. You see three explosions and then the whole thing coming down.
--FIREFIGHTER FRANK CAMPAGNA  Interview Date: December 4, 2001



The next thing I know, we heard a little bit of a rumbling, and then white powder came from the first collapsed building. I thought it was an explosion initially. We got hit with the powder. We tried to run. We got hit with the powder. It took a few minutes to clear.
...
After that, I still thought it was an explosion. I thought it was some kind of thermal explosion where I'm either going to get burnt -- and I had kind of ideas that it was going to be something like Hiroshima where all this heat was coming at me and we were going to get burnt -- or if the heat didn't burn me, I thought that all the parts coming out of this building, the windows, metal, all the things like that, that I might be severed in half.
--LIEUTENANT GEORGE J. DeSIMONE  Interview Date: October 22, 2001


.. for some reason I thought that when I looked in the direction of the Trade Center before it came down, before No. 2 came down, that I saw low-level flashes. In my conversation with Lieutenant Evangelista, never mentioning this to him, he questioned me and asked me if I saw low-level flashes in front of the building, and I agreed with him because I thought -- at that time I didn't know what it was. I mean, it could have been as a result of the building collapsing, things exploding, but I saw a flash flash flash and then it looked like the building came down.




Q. Was that on the lower level of the building or up where the fire was?





A. No, the lower level of the building. You know like when they demolish a building, how when they blow up a building, when it falls down? That's what I thought I saw. And I didn't broach the topic to him, but he asked me. He said I don't know if I'm crazy, but I just wanted to ask you because you were standing right next to me. He said did you see anything by the building? And I said what do you mean by see anything? He said did you see any flashes? I said, yes, well, I thought it was just me. He said no, I saw them, too.
--ASSISTANT COMMISSIONER STEPHEN GREGORY  Interview Date: October 3, 2001