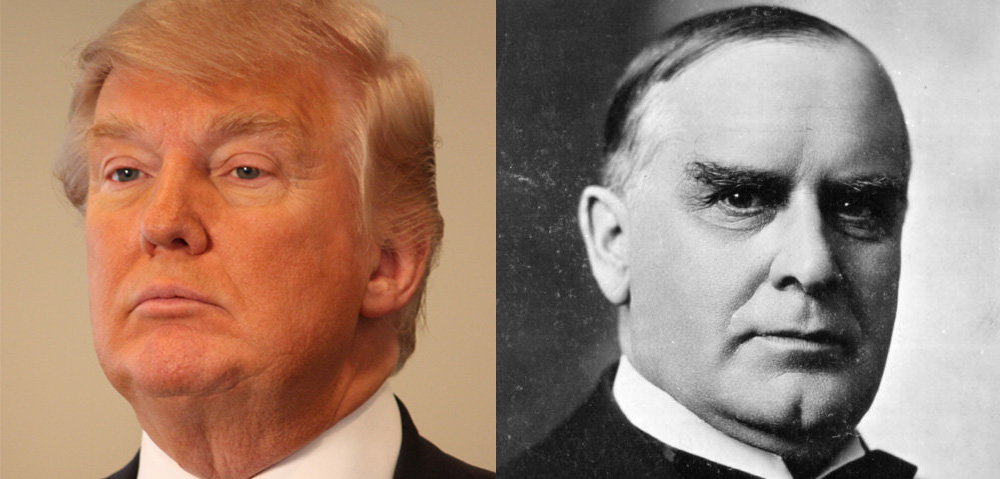 Donald Trump and William McKinley
In today's show we take a look at one of the most challenging aspects of Donald Trump's presidential campaign, the raising of trade tariffs, from a historical perspective.
It turns out that the last president elected on a policy of raising trade tariffs was William McKinley, who was assassinated on September 6, 1901. One of the most troubling aspects of the official narrative of McKinley's assassination is its parallel to the assassination of the 2 Kennedy brothers: the shots were fired by a lone gunman with no clear motive other than that McKinley was seen as a "symbol of oppression", and despite the fact that powerful interest groups stood to benefit greatly by his demise. The convicted perpetrator, Leon Czolgosz was portrayed as an anarchist - a term which was meant to symbolise irrational hatred and violence in a manner that is strangely familiar in this age of terrorism.
As with Islamic terrorists today, the anarchists of one hundred years ago served the power elites of the time with a convenient target of horror and appear to have been used in numerous false flag terrorist attacks carried out for the purposes of Machiavellian geopolitics.
There are two key aspects to McKinley's policies which were a thorn in the side of burgeoning globalist forces: his strong support of the gold standard and import tariffs. Both of these policies created powerful sources of revenue for the government which were completely outside the control of banks. In his last speech, McKinley urged reciprocity treaties with other nations to assure American manufacturers access to foreign markets. He intended the speech as a keynote to his plans for a second term.
At the time of McKinley's presidency there was no federally mandated income tax. The government had all the money it needed from tariffs and gold reserves which were getting larger as a result of extensive gold mining activities.
With the wisdom of hindsight it is not hard to see why the financial oligarchy wanted to eliminate him, to open the way for the creation of central banking and the use of income tax as a method of social control, and to begin the process of subverting the sovereignty of the United States.
In today's show we delve into all these themes in an attempt to understand the real significance of a Trump presidency for America and the world.
Related Links