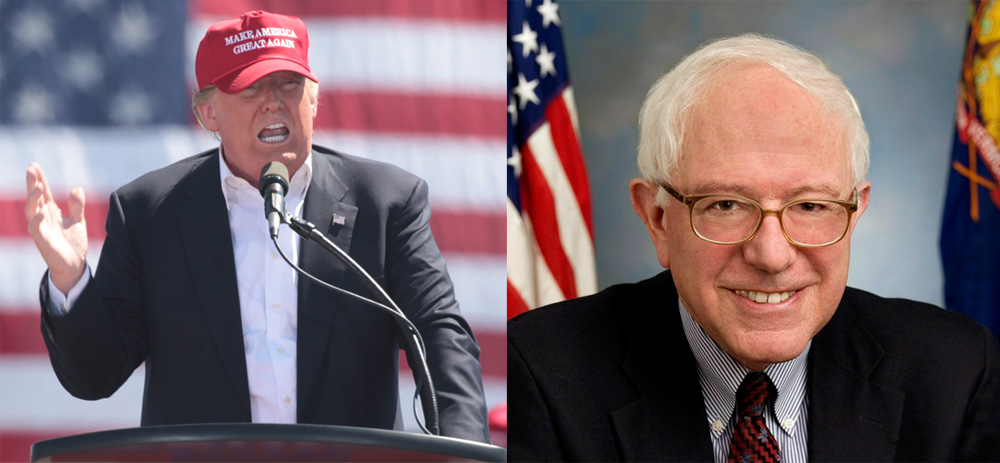 Photo: Gage Skidmore
Today we take an honest look at some of the policy positions of Donald J. Trump, and we reach the startling conclusion that, despite being an "insider" and an "elite" Trump's political stance is more anti-establishment than Bernie Sanders or indeed any other presidential candidate in recent American history.
This assessment of Trump is underlined by the fact that the Republican establishment as well as the entire mainstream media seems determined to turn him into a pariah, while his popularity continues to soar. The latest tactic being employed by news media is to dishonestly pitch the idea that his support is fading, when in fact the exact opposite is true. Trump continues to draw huge crowds at every speaking engagement, even in the state of Wisconsin where he is described as trailing in the polls.
Trump describes his campaign as a "movement" - ie something bigger than one party or one leader. His presence on stage is magnetic and his style of speech totally spontaneous - which sets him apart from all other Republican contenders. Another thing which sets him apart is his ability to draw swinging voters and people who either never voted before or who had become cynical of the entire democratic process.
Some of Trump's key policy positions are listed below.
End toxic free trade (globalism)
Reform US-China trade relationship
Reduce US commitment to NATO
Withdraw from TPP
End Common Core curriculum
Reduce illegal immigration
Work with Russia to destroy ISIS
Open up discussion of vaccine safety
Legitimise scepticism on climate change
Significant Healthcare reforms
Noninterventionist foreign policy
Withdraw troops from Japan and South Korea
Allow Japan and South Korea to develop nuclear weapons
While some of his statements regarding Muslims and torture have grabbed the headlines, his revolutionary proposed reforms of the China trade relationship, NATO, and foreign interventions are not getting much coverage at all. Most of what we hear about Trump is indeed pure distraction to prevent us from recognising the simple fact that Trump is championing the average person.
Criticisms of Trump generally involve a mixture of the following:
political incorrectness
sexist
against same-sex marriage
xenophobic
racist
overly aggressive
Notice how all of the above criticisms derive from the dominant left ideology which sees the entire world through the lens of class warfare at the level of culture ("cutural Marxism"). This way of looking at the world, which perfectly sums up supporters of Bernie Sanders, largely ignores the problems of globalism because it is tied to a radically Statist program wherein every social ill will be ironed out by intervention, regulations, taxes and taxpayer-funded "free" services. Sanders unashamedly endorses this political philosophy and highlights the following policy positions:
Eliminate tax deductions for corporations
Eliminate offshore tax havens
Eliminate wealth inequality
Free education
Universal Health care
Women's rights
LGBT rights
Immigrant's rights
Climate change action
When you look honestly at the full scope of Sanders Vs Trump, it suddenly becomes clear that Sanders is speaking from the position of the establishment, even though he claims otherwise, whereas Trump is a disruptive force, threatening the power and supremacy of his own class.
Indeed, anyone who has looked at politics honestly can see the "left establishment" and the "right establishment" are but two wings of the same entity, and neither intends to do anything to end globalism, which is destroying Western civilisation.
In the 2nd hour of today's show, in the wake of the controversy over the film "Vaxxed" we give you a primer on Dr. Andrew Wakefield. Much of what you have read about this man in virtually every piece of MSM news coverage is horribly distorted and biased. In the show today we break down the history of the controversy over the MMR vaccine and what exactly were the proven charges against Dr. Wakefield.
Related Links
Hour 2 - VAXXED Controversy