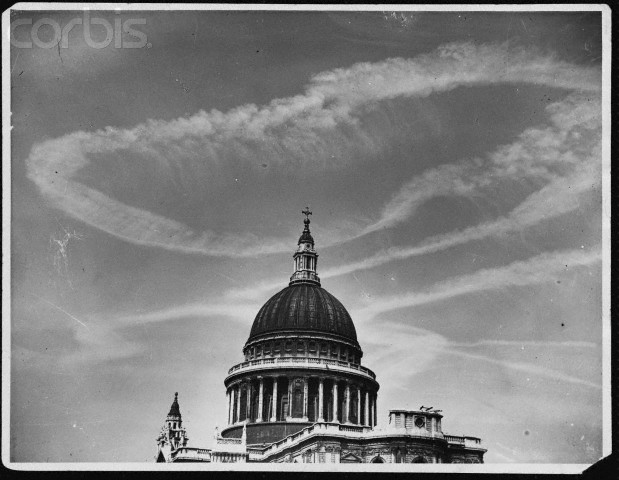 Vapour trails left by British bombers on route to attack flying-bomb sites encircle the dome of St. Paul's Cathedral. London, 1944.
All those who passionately believe that "contrails dissipate quickly" whereas "chemtrails linger" and are deeply offended by the sceptical position that TNRA takes in regard to these claims, are free to "unlike" Truth News.
If, on the other hand, you would like to engage in rational debate, you're most welcome to do so.
However, please be advised that the information I have to impart may be shocking and difficult to grasp if you have been a "chemtrail alarmist" for a long time.
The often cited claim that "normal contrails dissipate quickly" is total bunkum.
There is not a shred of science to backup that claim. Nothing, nada, zippo!
Those who promote this idea are simply repeating something they read on a web page without checking sources.
CONTRAIL SCIENCE
For a contrail to form, suitable conditions must occur immediately behind a jet engine in the expanding engine exhaust plume. A contrail will form if, as the exhaust gases cool and mix with surrounding air, the humidity becomes high enough (or, equivalently, the air temperature becomes low enough) for liquid water to condense on particles and form liquid droplets. If the local air is cold enough, these newly formed droplets then freeze and form ice particles that make up a contrail.

Because the basic processes are very well understood, contrail formation for a given aircraft flight can be accurately predicted if atmospheric temperature and humidity conditions are known.

After the initial formation of ice, a contrail evolves in one of two ways. If the humidity is low, the contrail will be short-lived. Newly formed ice particles will quickly evaporate. The resulting contrail will extend only a short distance behind the aircraft. If the humidity is high, the contrail will be persistent. Newly formed ice particles will continue to grow in size by taking water from the surrounding atmosphere. The resulting line-shaped contrail extends for large distances behind an aircraft. Persistent contrails can last for hours while growing to several kilometers in width and 200 to 400 meters in height. Contrails spread because of air turbulence created by the passage of aircraft, differences in wind speed along the flight track, and possibly through effects of solar heating.

Thus, the surrounding atmosphere's conditions determine to a large extent whether or not a contrail will form after an aircraft's passage, and how it evolves. Other factors that influence contrail formation include engine fuel efficiency, which affects the amount of heat and water emitted in the exhaust plume.
- source
TNRA is informed by science and is not interested in propping up anyone's belief systems, and we don't apologise for that.
But, please, don't take it from me, speak to any meteorologist or any pilot and they'll tell you straight, that there is HUGE variation in the length and persistence of contrails. Sometimes they don't form at all, other times they form, but disspate quickly, other times they persist and spread out.
That's the facts folks, and it's been that way since planes first went up in the sky.
If you believe otherwise, I'm afraid you've been conned.
Forgive me if I seem rude or impatient on this topic, but every few months I come across a new wave of people who have been subjected to the same false propaganda about chemtrails, and I have to run the same arguments and cite the same articles over and over again. It does wear one's patience down.
Before making some kind of angry reply, I urge you to read this article and associated links. It's fairly detailed, and deals with most of the usual claims made by chemtrail alarmists.
Finally, let me qualify all this by saying that I do not doubt that geo-engineering programs exist, and that, indeed, some of the patented techniques discussed at international forums include the creation of artificial cirrus cloud. Does this, however, entitle you to conclude that every spreading contrail you see is an example of such geo-engineering?
Think about it.
Related Links