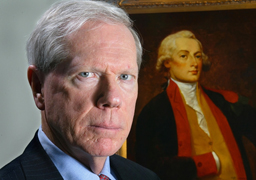 My guest in the first hour of today's show is economist Paul Craig Roberts.
Dr. Roberts served as an Assistant Secretary of the Treasury in the Reagan Administration and was noted as a co-founder of Reaganomics. He has had careers in scholarship and academia, journalism, public service, and business. He is chairman of The Institute for Political Economy. Our discussion today ranges from the political situation in South America, to the impending collapse of the US dollar and the machinations towards world war behind the current harsh US rhetoric against Russia.
Dr. Roberts expresses the view that the collapse of the US dollar will lead to the collapse of US power generally in the world, however he warns that the fanatical belief in American exceptionalism held by those currently in power is the greatest threat to world peace at this time.
In the second hour of the show today my guest is an extrarodinary oncologist from Italy, Dr. Tullio Simoncini, who has developed a revolutionary method for treating cancer, based on his conclusion that cancer is essentially a fungus. Dr. Simoncini asserts that tumours are solid abscesses which are the body's attempt to protect itself from a fungal invasion.
In our conversation we look at a variety of problems in the treatment and diagnosis of cancer, and Dr. Simoncini addresses and corrects many popular misconcpetions and theories about the causes of cancer.
We also bring you a round-up of Australian news.
Related Links