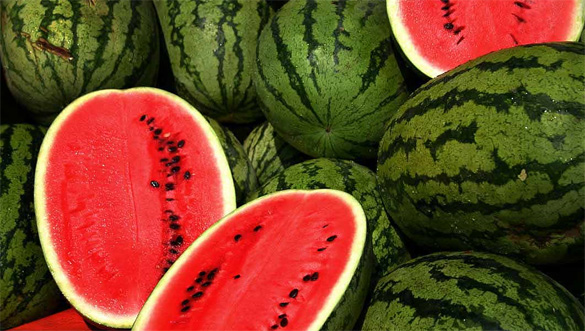 On 4th July 2011 the Greens will control nine seats in the Federal Senate, giving them the balance of power and ushering in a new era of enviro-politics.
Tonight Josh Jackson and I wade into the battle over carbon taxes and attempt to restore some sanity to the debate.
In particular we take a look at the influence of socialism on the Greens, with former communist Lee Rhiannon now in the Senate (hence the watermelon image above). Rhiannon was a member of the hard line Socialist Party of Australia which continued to support the Soviets after the brutal supression of the Prague uprising in 1968.
From The Australian:
Ms Rhiannon was also involved in a public spat over her communist past with author Mark Aarons after he published his account of his parents' prominent involvement in the pro-Moscow Communist Party of Australia. The CPA split from Moscow after Soviet tanks crushed the Prague Spring moves for "socialism with a human face" in Czechoslovakia in 1968, the same year a new spirit of liberty swept the Western world.

Aarons wrote that Ms Rhiannon and her parents left the CPA to join the Socialist Party of Australia, which continued to support the Soviets.

Ms Rhiannon claimed in a letter to The Sydney Morning Herald that she "joined the 1968 protest against the invasion of Czechoslovakia."

But in a letter of his own, Aarons attacked Ms Rhiannon's "astonishing" attempt "to deny the facts in the book about the views and activities of her parents".

"Rhiannon also joined the SPA, whose main rationale was to support the invasion and the Soviet Union generally," he wrote.

"Rhiannon's refusal to condemn the invasion (and the shooting of Polish workers) is recorded in the University of NSW student newspaper Tharunka (1972). Denial will not alter the facts."
In the second half we present the annals of Charlie Veitch - an "ex-truther" who had a spiritual revelation on the road to New York City (all expenses paid by the BBC) which made him realise that his conspiracy theories were wrong and stupid and why he should trust Big Government.
We take a look at the psyops aspects of Mr. Veitch's conversion to the official view of 9/11, and what the BBC is trying to achieve.
Related Links