Today we take a look at new evidence that Australia is turning into a miserable totalitarian hell hole.
We bring you a collection of stories which demonstrate both the pettiness and the obscenity of Australia's poisonous ruling elite. Cyclists forced to carry ID, picnic goers forced to get permits, sniffer dogs at public pools, forced vaccination, paternalistic and idiotic laws regarding alcohol are just a few of the symptoms of this incipient fascist takeover.
Australia has crossed a line which was crossed by Germany in the 1930s. It is not a pretty picture.
These words of Martin Luther King are perhaps more relevant today than ever before:
One may well ask: "How can you advocate breaking some laws and obeying others?" The answer lies in the fact that there are two types of laws: just and unjust. I would be the first to advocate obeying just laws. One has not only a legal but a moral responsibility to obey just laws. Conversely, one has a moral responsibility to disobey unjust laws. I would agree with St. Augustine that "an unjust law is no law at all."

- source
Also in today's show we look at new research into the health crisis in Brazil which suggests that pesticides may be the cause of the epidemic of head deformities in newborns rather than the Zika virus, as well as new developments in the situation of Julian Assange who is now a bona fide political prisoner according to UN legal authorities.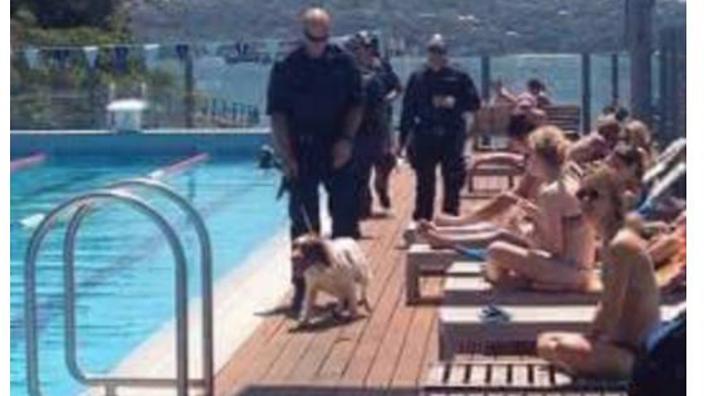 NOTE: It turns out the police have claimed that the the above photo which shows the police patrolling a pool with sniffer dogs was actually a bomb detection operation. Apparently people have overreacted with conspiracy theories about drug sniffer dogs. Bomb sniffing operations at a public pool are nothing to be concerned about at all (sarcasm intended).
Related Links