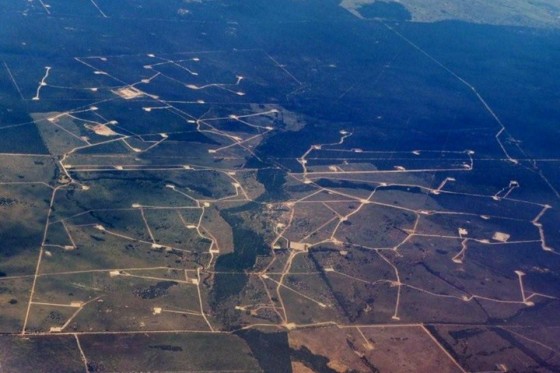 Photo: Coal seam gas wells south of Chinchilla in south-west Queensland. (AAP: Supplied)
A man-made environmental and human disaster is looming and nobody in power seems to have the will to stop it. It's called coal seam gas (CSG), and it's making aggressive inroads into the Australian landscape, causing illness, despair and dislocation for those unlucky enough to live in its path.
This crime against nature is being carried out by large mining corporations like Santos, with the rubber stamp of your government, which of course is raking in the money from the sale of the mineral rights, while the owners of the land are being ignored and driven off the land.
Today Jess Moore from stop-csg-illawarra.org joins us to discuss these horrors, and what you can do about the situation.
From the website:
15 coal seam gas (CSG) wells have been approved for development in the northern Illawarra. Further wells are being discussed and applied for in the region.

These wells are in and around the Sydney Water Catchment, and pose a direct threat to our water supply.

We are worried because CSG mining:

Always involves contaminated water as extraction of gas draws water out of the coal seam that is highly saline and can contain toxic and radioactive compounds, endocrine disruptors and heavy metals;

When using hydraulic fracturing (or fracking), contaminates large quantities of fresh water with sand and chemicals that are pumped underground;

Lowers the fresh water table;

Is a fire hazard, as wells, processing plants and pipelines leak;

Risks a range of direct and indirect health impacts such heart, lung, kidney and neurological problems and cancer;
Related Links