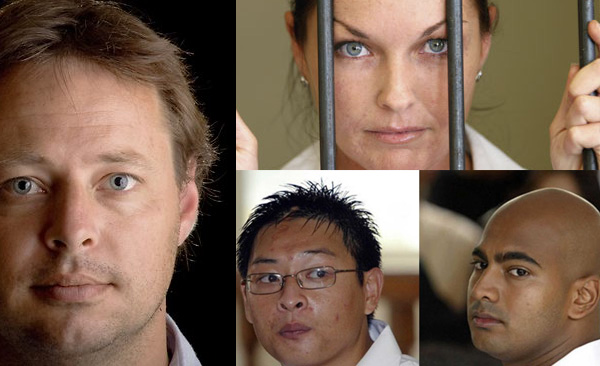 Clockwise from left: David Hicks, Schapelle Corby, Myuran Sukumaran and Andrew Chan
In the first hour of today's show we take a look at several high profile cases involving imprisonment of Australians overseas. We present a theory the Schapelle Corby and the Bali Nine cases are connected, in that the arrest of the Bali Nine was deliberately orchestrated by the Australian Federal Police shortly before the conclusion of the Corby trial. Was this an attempt by the Australians to appease the Indonesian government and perhaps get a more favourable outcome for Schapelle, whom they knew to be innocent?
We also take a look at recent startling news that convicted terrorism supporter David Hicks may soon be exonerated on all charges.
In the 2nd our of the show Dr. Viera Scheibner returns to discuss developments in the scandal over Dr. Sherri Tenpenny, who was forced to cancel her Australian speaking tour due to an orchestrated hate campaign and death threats made against her. Dr. Scheibner reflects on what this signifies for democracy as well as the legitimacy of medical science.
Related Links