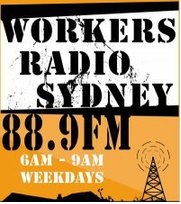 Today we bring you highlights from the Workers Radio breakfast show on Radio Skid Row 2RSR 88.9 FM Sydney, from 1 December 2011. You can tune in to the show every morning from 6-9 AM, and if you're outside Sydney you can listen via the web stream here.
I am joined on air by the show host Jack Frost and psychologist Karla Cryer who previously was interviewed on TNRA.
During our discussion we cover a variety of topics, including geo-engineering, "chemtrails", and the Schapelle Corby case. We also take calls and engage in some robust debate.
I hope you enjoy the show.
Related Links