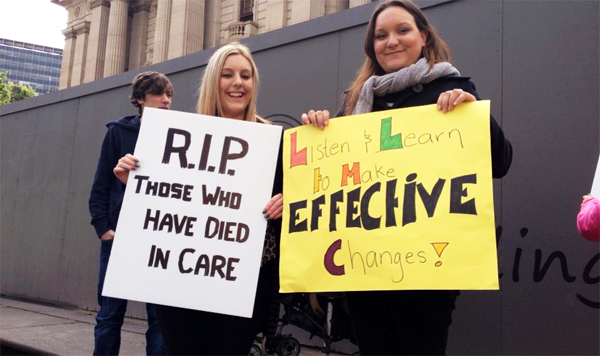 Protesters at the Forgotten Australians Day of Action - 15 May 2013
My guest today in the 2nd hour is Gabrielle Phillips Short, a survivor of institutional abuse whose testimony is helping bring reconciliation and justice for many adults who as children were abused while in institutional care.
Gabrielle has testified before the Inquiry into the Handling of Child Abuse by Religious and Other Organisations in Victoria, which is due to conclude in November 2013.
In today's show we bring you some excerpts from the transcript of Gabrielle's testimony and her own comments and reflections on the ongoing struggle for survival of thousands of abuse victims around the country.
In the first hour we welcome once again Sarah Shbat, who joins us from Damascus, Syria. Sarah, who is currently studying Law at Damascus University, gives us a refreshing perspective on modern Syrian society, and one which is very different from the picture we get from corporate media.
I'm sure you will find both interviews from today's show stimulating and thought provoking.
In other news we take a look at the new malaria vaccine which has been greeted with fanfare by the corporate media. What indeed is the malaria vaccine, and how does it work? Surprisingly, the experts don't seem to have a clear answer.
Also in today's show, we examine a new research article authored by Stephen Lewandowsky et al, titled "The Role of Conspiracist Ideation and Worldviews in Predicting Rejection of Science". We demonstrate that this article is nothing more than political rhetoric and propaganda maquerading as serious scientific research.
Related Links