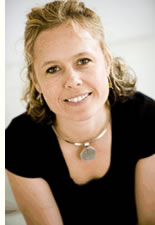 Today it is my pleasure to welcome to the show Nicole Bijlsma, a best selling author with extensive knowledge on many health issues related to the toxic effects of ordinary things found in your home.
Nicole joins us in the 2nd hour of today's show.
Nicole's website provides information on the health effects of household chemicals, toxic gases, lead dust and electromagmetic energy, and on today's show she shares with us some of her research with an emphasis on the health effects of various forms of electromagnetic energy, including smart meters, wireless routers and mobile phones.
More backgound on Nicole can be found at buildingbiology.com.au:
Nicole Bijlsma is a woman of passion, and her passion lies in environmental medicine. She first became interested in building biology as a result of two events that occurred in her life: the first was when she began to notice the connection between many of her patient's ill health and their homes. The second was her infertility.

The cause of her ten miscarriages was eventually identified as an immune disorder (which was diagnosed by a US reproductive immunologist) which she now suspects arose from long term exposure to a high electromagnetic field. Once these issues were addressed, she successfully gave birth to her three children. Nicole is an accomplished naturopath, acupuncturist and building biologist who has been in clinical practice since 1989.

She is also the founder of the Australian College of Environmental Studies which was established in 1999 to educate people about the health hazards in the built environment. The college provides nationally accredited training in Building Biology and Feng Shui. Nicole is the author of the book Healthy Home, Healthy Family and is a popular speaker who conducts lectures on sick building syndrome and healthy homes throughout Australia. Nicole has appeared on every major television network including the 7PM Project, Sunrise (five times), the Today show and The Circle and is regularly asked by the media to comment on health hazards associated with our homes. - source
In the first hour of the show we cover some recent news, with a critique of ABC Australia's coverage of the Climate Commission report titled "The Angry Summer"
Related Links