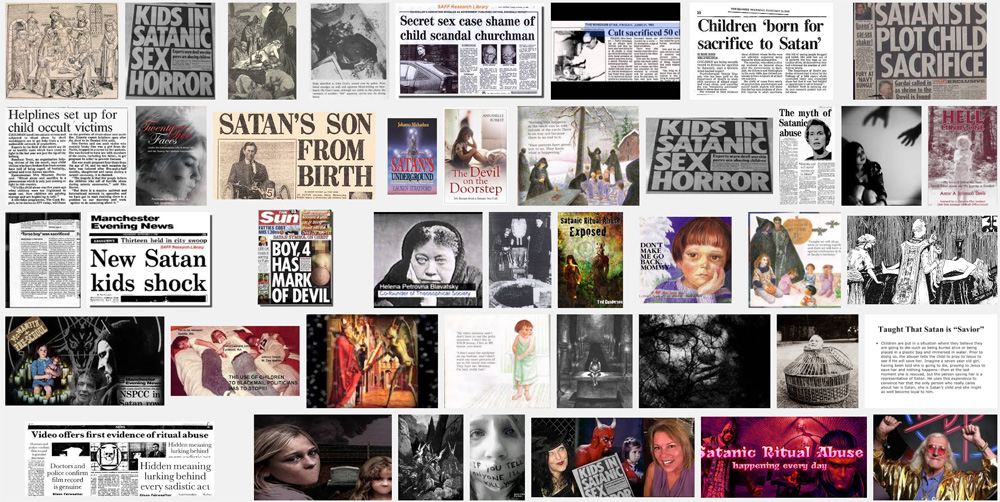 Google image search provides a montage of popular SRA themes
Institutional child abuse and pedophilia are real and tragic aspects of modern western society and have been the subject of numerous inquiries both in Australia and around the world. Much of the information being disclosed is historic and goes back decades.
The evidence presented at such inquiries is generally overwhelming and compelling, however there is one subset of recent allegations which has received great interest in the alternative research world, and which is supported by almost no provable facts. These allegations can be grouped under the title "Satanic ritual abuse" (SRA for short).
It is not the purpose of today's show to further publicise controversial statements or to opine on the veracity of any specific claims made. Indeed to do so in the absence of evidence would be a breach of journalistic integrity and unfair to those accused. Suffice it to say that SRA allegations tend to be of the most heinous nature imaginable. If true the perpetrators must be considered among the very worst class of serial psychopathic murderers.
We stress that such crimes are by no means outside the scope of the kind of horror which humans have inflicted upon each other for millennia. Indeed, one may well argue that being ritually murdered and cannibalised by a satanic cult is no worse than being torn limb from limb by a CIA predator drone strike, or being burned alive in a cage by ISIS.
Despite all this, extraordinary claims demand convincing evidence. Simply believing somebody's allegations because they might be true is unacceptable and can lead to persecution and witch hunts as we have seen many times before in history.
In today's show we provide a historical overview of SRA allegations going back to the 1980s and supplement this with an analysis of the psychological traits of those who make these allegations. We identify 3 psychological mechanisms, "narcissistic confabulation", "false memory syndrome" and "moral panic" in explaining how it is that completely false narratives come to be popularised in society.
We understand that the views put forth here do not tally with the perspective of many alternative researchers. TNRA is not concerned with adhering to group-think positions on any issue as we have amply demonstrated in the past.
Sadly, the alternative media is no less subject to bias, faulty logic and disinformation than the mainstream media, leading to a situation where society becomes dangerously polarised between dogmatic adherents of diametrically opposed viewpoints which are often equally deluded.
The true ruling elites (whether satanic or not) always benefit from such social chaos by offering the solution of "order" - which is really just the acceptance of the status quo and a willingness to be led by those who wield the most power.
The only way out of this predicament, we suggest, is for average people to learn discernment and develop their critical thinking capacity, so as not to be hoodwinked by those who would divide and rule us.
Related Links