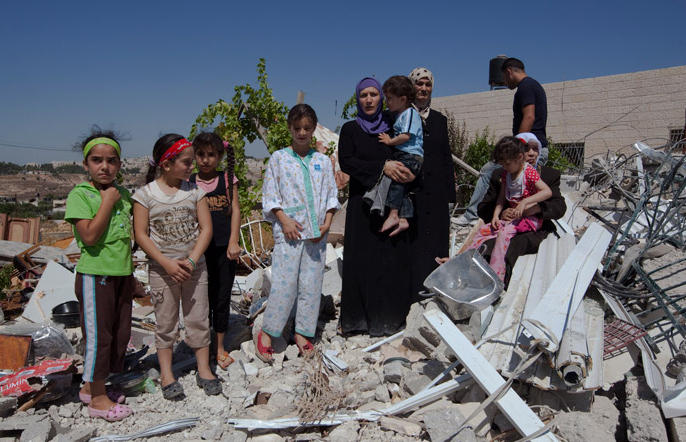 A Palestinian family stands in the remains of their house, demolished by the Israeli authorities in the Beit Hanina neighborhood, 13 July 2009.
More images here
.
Tonight TNRA welcomes Michael Shaik, spokesman for
Australians for Palestine
.
As detailed in their
mission statement
, Australians for Palestine is committed to dispelling the myths and disinformation about Palestine in Australia. "It seeks to communicate the Palestinian narrative from a historical perspective, as well as through the current political developments impacting on Palestinians wherever they are, the Middle East region, and the world at large."
Michael is an Australian who worked as a media coordinator in Gaza for the
International Solidarity Movement
.  In 2003 he was jailed and deported for "unspecified security reasons".
During the interview we examine several facets of the problem of Israeli and Palestininan relations.
We look at the historical origins of the Jewish state, the failures of the recent
United Nations Fact Finding Mission
on the Gaza Conflict, the
Mossad passport controversy
and double standards exhibited by our media and government in relation to documented crimes against humanity perpetrated by the State of Israel, such as the use of
white phosphorous shells
during the 2009 incursion into Gaza.
A very important show - don't miss it!
Related Links: